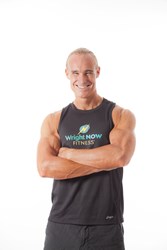 Santa Clara California (PRWEB) November 18, 2013
Long time Professional Fitness Trainer, Aaron Wright of Scotts Valley has introduced a new video physical fitness and wellness training program targeted at "The Rest of Us" otherwise known as "normal people", in a wide range of initial physical conditions.
Wright Now Fitness ™ is a program of fitness exercises, stretches, and nutrition which Aaron has developed over 20 years of fitness training and the training of other fitness trainers both in his professional fitness studio, Sound of the Wind, and in personal training sessions with literally thousands of clients.
Unlike many other video fitness programs, Wright Now Fitness offers it users 3 key components:
Cross Training System - 9 x 45 minute sessions + 9 X 25 minute shorter versions
Isolation Systems – 22 x 15 minute workouts and 22 short 8 minute versions
Cardio Blast Workouts – 3 x 30 minute workouts.
The Cross Training System is comprised of 9 programs with an ever-varying array of exercises designed to strengthen and improve the entire body without becoming boring by repetitive exercises. Aaron's program also incorporates very heavily the critical function of stretching key muscle groups at appropriate times throughout each exercise session. Along with the exercises and stretches included in each workout is a short, 8 minute Cool Down Program to stretch and relax the muscles that have just enjoyed the workout.
Aaron's unique Isolation Exercise Workouts are specifically designed for specific areas of the body that often need special attention either due to injury, stress, or just lack of use. They compliment the Cross Training System and allow users to focus on specific areas that need strengthening.
The three Cardio Blast Workouts provide a heart pumping full-on cardio vascular workout which is guaranteed to get your blood flowing.
Along with the three key exercise components is a simple, but complete guide to a healthy nutrition plan. The combination of a better exercise and fitness regimen plus focusing on nutrition and better eating habits offers people of all ages and levels of fitness a clearly defined pathway to "Look Younger, Feel Stronger, and Live Longer" the Wright Now Fitness way.
For more information, please go to http://www.WrightNowFitness.com and watch our Cross Training & Cardio Infomercial: http://youtu.be/ex8PGlckr2g.
For Media Contact please contact:
Michelle Wright
Wright Now Fitness
6201 Oak Canyon Drive
Suite 300
Irvine, CA 92618
media(at)wrightnowfitness(dot)com
(925) 876-3009
DISCLAIMER
Not all exercise programs are suitable for everyone. You should always consult your physician or health care specialist before performing any of the exercises in this program, especially if you have any chronic or recurring physical conditions, and/or if you are pregnant, nursing, or elderly. The instruction presented herein is in no way intended as a substitute for medical advice or counseling. Always contact your physician or health care specialist if you have any questions regarding your physical conditions or about the suitability of any of these exercises for you.
" WRIGHT NOW FITNESS (WNF) " is a broad ranging, multilevel exercise system which may include elements of an extreme fitness program and should not be attempted by someone who has a history of knee, shoulder or spinal (back or neck) problems. This warning is not to be discounted. There are many alternative fitness programs you may consider if you have, or are prone to, bodily weaknesses, injuries, complications, and/or disabilities, but "WNF" is not one of them. If you have any physical limitations or do not meet the minimum fitness requirements as outlined in the guidebook, do not attempt any of the exercises in this exercise program, or only do the exercise within the limits allowed by your body or as advised by your physician or health care specialist.
You should always warm up for a few minutes before beginning any workout, and you should never exercise beyond the level at which you feel comfortable. If at any time you feel you are exercising beyond your current fitness abilities, or you feel discomfort and/or pain, you should discontinue exercise immediately or move down to a lower level of exercise within the program and reconsider use of " WNF" or of the particular exercise or routine causing the discomfort and/or pain.
All exercises and use of this program are performed strictly at your own risk. The user assumes all risks of injury in the use of this program and "WNF" will not be responsible for any direct, indirect, consequential, special, exemplary or other damages, complications, or injuries that may result from use of this program. By use of this program the user agrees to indemnify and hold harmless "WNF", its parents, subsidiaries, shareholders, officers, directors, employees, agents, and suppliers from any and all claims, actions, demands, suits, losses, or related damages (including attorneys' fees) connected to or deriving from the use of the "WNF" program, including but not limited to such claims made or incurred by the user or any third party arising out of or relating to the use of the "WNF" program or the user's violation of any rights of a third party related to the use of this program.