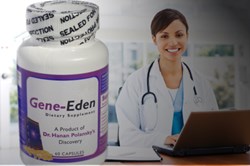 Since a herpes outbreak on a woman's nipples can look like other infections, we recommend having any sores checked immediately by a doctor. - Mike Evans, polyDNA
Rochester, NY (PRWEB) November 10, 2013
Many women wonder if breastfeeding can cause herpes outbreaks. polyDNA found that in its October 2013 survey, many women asked this question. As a service to its customers, polyDNA published an update to its page on herpes on its website.
The following information was recently updated on the polyDNA website.
Many women experience pain while breastfeeding. Their nipples can become very sensitive, and sores can develop. It is important to know what type of sores these are. While herpes outbreaks do not necessarily increase in number, some women may get herpes outbreaks around the nipples. This can be dangerous for the nursing infant. "HSV infection of the nipple or areola can be exquisitely painful and tends to present as miniature vesicles on an erythematous base. Open vesicles carry the virus, and the virus can then be transmitted to the breastfeeding infant. It is critical to rule out HSV in infants less than 3 months of age because they can develop a life threatening infection involving the central nervous system (1)." This is according to a study published in August 2013 in the medical journal Dermatologic Therapy.
In fact, a baby that becomes infected with herpes through breastfeeding must be treated with an I.V. that administers the antiviral drug, acyclovir. Herpes on a nipple can appear as other infections. Thus it is very important for concerned mothers to know as early as possible if their nipples are infected with herpes. Another study published in October 2012 in the International Journal of Dermatology said that "An infant (<3 months old) feeding on a nipple with HSV can develop a life-threatening infection involving the CNS (central nervous system) that will require intravenous acyclovir. HSV can mimic more common causes of nipple dermatitis, such as plugged lactiferous ducts (milk glands that connect to the nipple), Candida mastitis (a fungal infection of the milk glands), and bacterial mastitis (a bacterial infection of the milk glands). Therefore, it is crucial to confirm the diagnosis of HSV, when clinically indicated, with a viral culture, serology, direct immunofluorescence assay, polymerase chain reaction, or Tzanck smear (2)."
polyDNA recommends helping the immune system to target the herpes virus while it is latent, and before a woman becomes pregnant, or after she delivers the baby.
"Since a herpes outbreak on a woman's nipples can look like other infections, we recommend having any sores checked immediately by a doctor. Further, before a woman becomes pregnant, or after she delivers the baby, we recommend taking Gene-Eden-VIR to help the immune system target the latent herpes virus." – Mike Evans, polyDNA
Gene-Eden-VIR is a natural herpes remedy proven in a clinical study to reduce symptoms associated with a latent HSV infection (3). A recent post marketing clinical study published in the peer reviewed, medical journal Pharmacology & Pharmacy, in a special edition on Advances in Antiviral Drugs on August 12, 2013 showed that Gene-Eden-VIR is safe and effective (3).
Each ingredient of Gene-Eden-VIR was chosen through a scientific approach. Scientists scanned thousands of scientific and medical papers published in various medical and scientific journals around the world to identify the safest, most effective natural ingredients that target the latent form of herpes (3).
To learn more about Gene-Eden-VIR and the Epstein Barr Virus, visit http://gene-eden-kill-virus.com/EBV.php. All orders of Gene-Eden-VIR are completely confidential, and no information is shared or sold to any third party. Privacy is assured.
Reference:
(1) http://www.ncbi.nlm.nih.gov/pubmed/23914890
(2) http://www.ncbi.nlm.nih.gov/pubmed/22994661
(3) http://www.scirp.org/journal/PaperInformation.aspx?PaperID=36101
polyDNA is a biotechnology company that develops dietary supplements using the unique scientific method developed by Dr. Hanan Polansky, which is based on Computer Intuition.
In addition to his unique scientific method, Dr. Polansky published the highly acclaimed scientific discovery, called Microcompetition with Foreign DNA. The discovery explains how foreign DNA fragments, and specifically, DNA of latent viruses, cause most major diseases.
polyDNA developed Gene-Eden-VIR, an antiviral natural remedy that helps the immune system kill latent viruses.