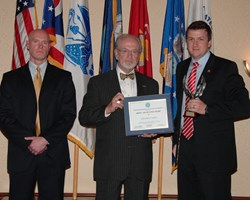 Members of the military possess important skills that translate well into the fast-paced job of transportation logistics.
Cincinnati, Ohio (PRWEB) November 11, 2013
Total Quality Logistics (TQL) announced today that it has earned the 2014 Military Friendly Employer® title by Victory Media, publisher of G.I. Jobs and Military Spouse magazines.
Now in its 11th year, Military Friendly Employers® media is a resource for transitioning service members and spouses seeking civilian employment. Each year, companies taking the survey are held to a higher standard than the previous year via improved methodology, criteria and weightings developed with the assistance of an Advisory Board consisting of leaders in military recruitment. This year, more than 5,000 companies competed for the title.
"Members of the military possess important skills that translate well into the fast-paced job of transportation logistics. They have an outstanding work ethic, they are quick to learn new skills, and they find success in any situation," said TQL Military Recruiting Specialist and Marine Corps veteran, Matt Disher.
TQL will be showcased, along with other 2014 Military Friendly Employers® in the December edition of G.I. Jobs magazine and online at MilitaryFriendly.com.
"Our Military Friendly Employers® constitute the group of companies actually moving the needle and hiring from the military community. The 2014 Military Friendly Employers® reported hiring more than 117,000 service members and spouses over the last 12 months, representing an average of 14 percent of total new hires," said Sean Collins, vice president for Victory Media and a nine-year Navy veteran.
As one of the fastest growing providers of transportation logistics services in North America, TQL connects shippers who have product that needs to be moved with truckload carriers who have the capacity to move it. TQL Logistics Account Executives are responsible for identifying shippers who need assistance moving freight, finding quality carriers to haul that freight, negotiating rates, and satisfying shippers' delivery needs. Job seekers can visit http://www.tqljobs.com for more information about sales careers with the company.
About Total Quality Logistics
Total Quality Logistics is the second largest freight brokerage company in the nation, with more than $1.3 billion in annual sales. The company, founded in 1997, is privately held and headquartered in Cincinnati, Ohio, with 21 locations across the nation. TQL was ranked among the nation's 150 Top Workplaces in 2013 in one of the largest-ever surveys of U.S. companies, with more than 1 million employees participating nationwide. TQL also was named by Inc. Magazine as a leading company for creating American jobs. TQL employs more than 2,300 nationwide.
About Victory Media
Victory Media, publisher of G.I. Jobs, is a service-disabled, veteran-owned small business, serving the military community since 2001. Its Military Friendly lists and methodology can be found at MilitaryFriendly.com. Its data-driven lists are published in G.I. Jobs, Military Spouse, Vetrepreneur magazines, republished in periodicals like USA Today, Wall Street Journal, Fortune, Forbes, and Bloomberg Business Week, and are frequently cited on national TV programs such as CNN, CNBC, NBS, Fox News, and others.