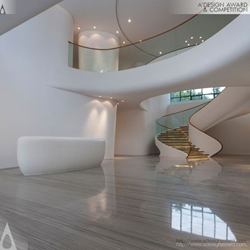 Como, Italy (PRWEB) November 14, 2013
A' Design Award and Competitions are proud to see that the project Embo Hospital by Ching-I Wu has been awarded with the prestigious Silver A' Design Award at Interior Space and Exhibition Design Competition among thousands of works.
Concerning Embo Hospital
Embo hospital was a decrepit building before its construction, whereas now it is a revolutionary designed health care institution in Xiamen, China. The embo Hospital is representing a fresh vision of design together with a brand new concept for gynecology and obstetrics. The undulating opening drawn to the sky-walk illustrates an embryonic form, symbolizing the beginning of life and the purpose of Embo hospital as a place for hope, miracle and new life.
To learn more, please visit: http://www.adesignaward.com/design.php?ID=26169.
Creative Team for Embo Hospital
Embo Hospital was made by Ching-I Wu, Melody Tsai, Michael Xiao, Wei-Sung Lin, Toria Lin, Rema Lu, Ren Hsu, Audrey Wang, Andy Wu, Jean Chen and Tien Wu
The Silver A' Design Award
The Silver A' Design Award is a prestigious award given to top 5% percentile designs that has accomplished an exemplary level of excellence in design. The designs are judged by a panel of three different jury which is composed of Academic, Professional and Focus Group Members. The designs are evaluated with score normalization to remove any biases and are voted on aspects such as functionality, ergonomics, engineering, presentation, innovation, usability, fun details, technology, and any other specific points that could be considered, each of these points are further weighted for different jury groups.
About A' Design Award and Competitions
A' Design Award and Competitions, aims to highlight the excellent qualifications of best designs, design concepts and design oriented products. A' Design Award and Competitions are organized and awarded annually and internationally in multiple categories to reach a wide, design-oriented audience. Learn more at: http://www.whatisadesignaward.com.