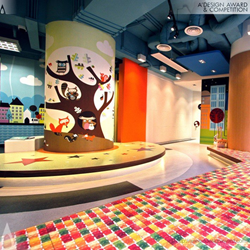 Como, Italy (PRWEB) November 16, 2013
A' Design Award and Competitions are proud to announce that the work Starlit Learning Center by Catherine Cheung, Kalother Yim, Ella Hung and Tim Yeung won the renowned Silver A' Design Award at Interior Space and Exhibition Design Competition.
Regarding Starlit Learning Center
The Starlit Learning Center is designed to provide performance training in a relaxed learning environment for children between age 2 and 6. In order to empower the form and space through the layout and fit the various programs held in a center, the Ancient Rome City Planning was applied. Circular elements are common along radiating arms within axis arrangement to chain up the classroom and studios between two distinct wings. This learning center is designed to create a delightful learning atmosphere with utmost space.
To learn more about this design, please follow: http://www.adesignaward.com/design.php?ID=26727.
Design Team for Starlit Learning Centre
Starlit Learning Centre was designed by Catherine Cheung – Design Director, Kalother Yim – Interior Designer, Ella Hung – Interior Designer and Tim Yeung – Designer
The Silver A' Design Award
The Silver A' Design Award is a prestigious award given to top 5% percentile designs that has accomplished an exemplary level of greatness in design. The designs are judged by a panel of three different jury which is composed of Academic, Professional and Focus Group Members. The designs are evaluated with score normalization to remove any biases and are voted on aspects such as functionality, ergonomics, engineering, presentation, innovation, usability, fun details, technology, and any other specific points that could be considered, each of these points are further weighted for different jury groups.
About A' Design Award and Competitions
A' Design Award and Competitions, aims to highlight the excellent qualifications of best designs, design concepts and design oriented products. A' Design Award and Competitions are organized and awarded annually and internationally in multiple categories to reach a wide, design-oriented audience. To learn more, visit: http://www.whatisadesignaward.com.