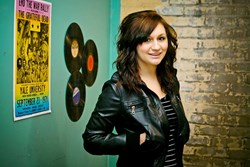 Buy a ticket, enjoy the show and help save the life of a child.
(PRWEB) November 12, 2013
The concert will feature Poema, Kirsten Arian, Safe In Blue, Bloom and The Red Headed Indian, all bands who have donated their time and talent to help raise funds to support the humanitarian work of Joint Aid Management, http://www.jamint.com, a 28-year-old relief organization that helps to feed and educate over 750,000 children in 5 African countries including Rwanda, South Sudan, Mozambique, Angola and South Africa.
Morgan Fisher, the 20-year-old founder of Bands that Jam For Africa, started the organization when she was only 14 years old. Since that time she has raised thousands of dollars, providing clean water, education and food to children in Africa while inspiring teenagers and young adults to use their passion for music to make an impact on the lives of thousands of children in Africa.
Morgan is a junior at Belmont University majoring in the Social Entrepreneurship Program. She was recently featured in Seventeen Magazine as part of Beyonce Knowles Chime for Change Initiative. Morgan traveled in 2011 and 2013 to visit the children in Africa where she lived on the JAM base and learned first hand the activities of the organization.