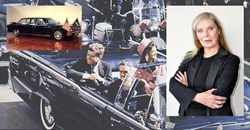 Minneapolis, Minnesota (PRWEB) November 12, 2013
Pamela Brown of Minneapolis, MN, generally acknowledged to be the leading expert on the Presidential Limousine SS100X that President Kennedy was riding in on November 22, 1963 when he was assassinated, will give a presentation – "Midnight Blue to Black: the Vanishing Act of the Presidential Limousine SS100X In Broad Daylight" -- at the international November In Dallas conference, hosted by JFKLancer on Friday, November 22nd, 2013, which is the 50th anniversary of the assassination. Ms. Brown is known throughout the research community for her deep and stunning insights, which include shifting the focus of the primary crime scene from Dealey Plaza to the limousine itself. Ms. Brown's views tend to generate controversy in the research community with her insistence on using an "historical process" and weighing and evaluating all of the documentation in order to perceive what is in front of our eyes, especially in examining the disinformation from both sides of the aisle which has prevented the general public from perceiving what actually happened. Ms. Brown has consistently presented cutting-edge research, adding definition to what really happened to the Presidential Limousine in Dallas and beyond; with the unreleased Ferguson memo, research on the second windshield, and dating of the FBI bulky photos. This presentation will focus on exactly what happened to the limousine in the weeks NID immediately following the assassination; and why, when a team was quickly developed to determine if the limousine could be bulletproofed. By December, 1963, the limo had been shipped off under secrecy and with a disinfo screen to be rebuilt into a bulletproof car for the new president, Lyndon Johnson. LBJ insisted that the original Midnight Blue of the JFK limousine be changed to black. The rebuilt limousine, which was in service until 1978, is on display as the "JFK Limousine" at the Henry Ford in Dearborn, MI.
Ms. Brown has served as the limo resource on numerous TV documentaries, including 2003 FoxNews program, "Beyond Conspiracy," 2005 SPEED Channel documentary on the JFK Limo and the 2008 Discovery Channel program INSIDE THE TARGET CAR. Ms. Brown has been published in research journals on both sides of the Atlantic, and contributed the highly-acclaimed chapter "SS100X" to CAR CRASH CULTURE, (Palgrave, Macmillan, 2001). Ms. Brown also presented at NID in 1997 and 2002.
Ms Brown is also an independent flute player and teacher and a substitute teacher at private and public schools. Ms Brown has had an ongoing passion for sharing information on the JFK assassination with her own three children, now grown, and with young people everywhere. It is for them to carry on the legacy into the next fifty years, and is especially interested in sharing her experiences with students and schools in realtime in Dallas so that they can share in this extraordinary experience. She looks forward especially to all questions students and their teachers might have about the assassination and the 50th anniversary. They can Twitter their questions to #JFKlimo100x.