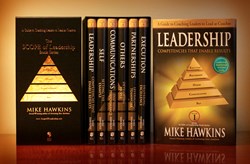 Ideal gift for the business executive who has it all
Dallas, TX (PRWEB) December 02, 2013
Looking for a sophisticated yet practical executive gift this holiday season?
The latest and most comprehensive insights on great leadership are now available in a six-book series packaged in a stunning copper-embossed black Kevlar executive case.
The "SCOPE of Leadership" (Brown Books Publishing Group) book series on coaching leaders to lead as coaches, written by seasoned expert and executive coach Mike Hawkins, provides advanced yet practical insights into the competencies of great leaders.
Drawing from parallels to great athletic coaches, the "SCOPE of Leadership" book series takes the reader through a journey from developing the fundamental building blocks of great leadership to the advanced competencies required to delivering exceptional results.
Each book in the series explains what great leaders do as well as how they do it.
In addition to fascinating examples and hard-hitting facts, the book series includes numerous self-assessments, figures, reference tables, and step-by-step instructions.
Whether aspiring to become a great leader or fine tuning already existing great leadership skills, these books enable people to effectively deal with the most challenging circumstances that leaders face.
The "SCOPE of Leadership" books are now available as eBooks or in hardcover from your favorite book retailer or by visiting http://www.ScopeOfLeadership.com.
About the Author
Mike Hawkins is the award-winning author of Activating Your Ambition: A Guide to Coaching the Best Out of Yourself and Others. (http://www.ActivatingYourAmbition.com), a seasoned executive coach, and an expert in improving organizational performance. He is president of Alpine Link Corporation, (http://www.AlpineLink.com), where he is a respected practitioner, speaker, and thought leader on leadership, self-improvement, and business improvement. He is known for consistently leading organizations and individuals in higher level achievement.
Prior to founding Alpine Link, Mike developed his practical perspectives on leadership through his unique combination of experience in engineering, sales, and senior management. He has a rare blend of technical, operational, and leadership knowledge. He has worked in multiple industries, including management consulting, information technology, financial services, manufacturing, and construction. Mike developed the SCOPE of Leadership framework to help leaders break through their limitations and achieve higher levels of success. Few have practiced, studied, and coached on the topic of leadership to the extent Mike has.
About Brown Books Publishing Group
Founded by Milli Brown in 1994, Brown Books Publishing Group is a full-service, independent publisher of high-quality books across all genres, from non-fiction to fiction. Committed to producing award-winning books for authors who choose to retain the rights to their intellectual property, Brown Books publishes more than one hundred titles a year and has won numerous, prestigious awards including the Writers Digest Grand Prize, Mom's Choice Award, Foreword Book of the Year, Gold Ink Award, Axiom Business Book Award and many more. Brown Books authors have appeared on programs such as Piers Morgan Live, Oprah, the Today Show, FOX News, Face the Nation, CNN, and BBC News. They have been featured in publications such as USA Today, Publishers Weekly, and the New York Times. In addition, they have been guests on NPR programming, including The Diane Rehm Show, Morning Edition, The Takeaway, and Tell Me More. To learn more, visit: http://www.brownbooks.com.