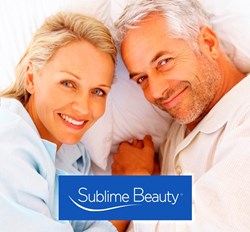 Two simple hints can increase skin quality and well-being, says Kathy Heshelow, founder of Sublime Beauty®.
St. Petersburg, FL (PRWEB) November 15, 2013
Who doesn't want to look and feel great? Skin is a reflection of care and health, and is the largest body organ of elimination.
Two easy tips to care for skin and benefit from better health are:
1) Dry Skin Brushing. Many are now discovering this ancient secret to skin care. Dry brushing skin removes dead cells and toxins from the skin. As we age, we are less able to throw off these cells and this can cause a back-up to the system plus dull, listless looking skin.
"In only 10 minutes per day, you can brush the toxins and dead cells away," says Kathy Heshelow, founder of Sublime Beauty. "Using a natural-bristled brush, use brushing movements towards the heart in medium strokes starting at the feet. We offer a 6 page "how-to" guide after purchase of our brush."
Join Salma Hayek, Miranda Kerr, Jennifer Anniston and Molly Sims among other beauties who regularly Skin Brush to look and feel better. Sublime Beauty® has devoted an entire website to Skin Brushing.
"The great thing about Skin Brushing is that you also boost your blood circulation, move your lymphatic system, and improve your mood," says Heshelow. "This helps your overall well-being as well as skin quality!"
Sublime Beauty® also offers a portable travel Skin Brush with pouch so you can continue to brush on the go.
2) Nourish skin with natural vitamins, minerals and anti-inflammatories - avoid chemicals, additives and coloring that will be absorbed into your system. How? Pure body oil.
"Following up on healthy Skin Brushing, we wanted a product that would be good for the body and skin," says Heshelow. "We worked with a chemist and designed our Daily Body Oil. It has no additives, fragrances or chemicals - only five pure oils and Vitamin E."
The oils were chosen for their anti-oxidant and anti-inflammatory qualities, plus they nourish skin to its best state. The new product includes Sweet Almond oil, Sesame oil, Aloe, Jojoba, Argan Oil and Vitamin E.
The free report after purchase covers details about each oil. Many are know for their anti-aging qualities, can lighten dark spots, reduce stretch marks, soothe conditions like eczema and are anti-inflammatory. Several are known in clinical tests to stimulate growth of new cells to skin can replenish itself naturally. They protect skin naturally and the main factor is superior skin hydration.
Start improving skin quality and well-being today with these simple tips and tools.