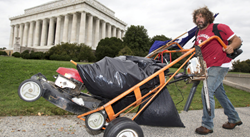 Washington, DC (PRWEB) November 11, 2013
The one-man "Memorial Militia" Chris Cox made national news and captivated the nation last month during the government shutdown by mowing and cleaning the National Mall before the Million Vet March. Chris Cox will return to the Lincoln Memorial this Wednesday, November 13 at 1:30 p.m. to receive a chainsaw and other donations from around the country through charity crowdfunding site http://www.CrowdItForward.com and STIHL, the number one selling brand of chainsaw worldwide.
The Chris Cox story and the Crowd It Forward campaign may be seen by visiting http://www.CrowdItForward and searching for "Memorial Militia."
Chris Cox is a South Carolina woodcutting artist who brought his own mowing and woodcutting tools to the Lincoln Memorial in October and inspired a nation with his selflessness by mowing, clearing fallen trees, and emptying trash to keep the area safe and clean during the shutdown for veterans who would be visiting the coming weekend. In order to do so, Cox worked tirelessly for days, refused any tips or compensation, and refused to politicize his acts during several national media appearances.
Overwhelmed by hundreds of e-mails, thousands of social media posts and financial support of 72 nationwide donors to the Crowd It Forward crowdfunding campaign set up without his knowledge, Cox finally agreed to accept a new chainsaw and a financial donation to cover some of the costs of leaving his business to contribute to our country and to cover the cost of several hundred dollars of parking tickets he received and damage to his equipment while doing his good deeds. The STIHL MS660 professional chainsaw to be given to Cox on Wednesday was been graciously donated by STIHL Inc.
Media and the public are welcome to attend and meet Chris Cox at the base of steps of Lincoln Memorial at 1:30 p.m. Wednesday, November 13. If weather prohibits being outdoors, the event will take place at top of steps of the Lincoln Memorial under cover. For more information, e-mail Press(at)CrowdItForward(dot)com or call 813.410.4658.
About Crowd It Forward:
CrowdItForward.com is a crowdfunding website owned and operated by the ClickStartMe Foundation, Inc., a 501(c)(3) not-for-profit organization that creates "Random Acts of Crowdfunding" for those in need, those who inspire us, and those who perform random acts of kindness to others. All donations to crowdfunding projects on Crowd it Forward are tax deductible. Crowd It Forward has been featured in USA Today, Huffington Post, CNN and numerous other national media outlets. Crowd It Forward was founded by nationally recognized crowdfunding expert Kendall Almerico. For more information about Crowd It Forward, contact Press(at)CrowdItForward(dot)com or call 813.410.4658.
About STIHL Inc.
STIHL Inc. manufactures the number one selling brand of gasoline-powered handheld outdoor power equipment in America,* as well as the number one selling brand of chain saws in the world. STIHL products are sold through servicing power equipment retailers from coast to coast – not mass merchants. Located in Virginia Beach, Va., STIHL Inc., the headquarters for U.S. operations for the worldwide STIHL Group, exports to over 90 countries around the world; and the majority of STIHL products sold in America are also built in America.* STIHL products sold through U.S. STIHL dealers are for distribution in the United States only. For more information or for the name of a local STIHL retailer, call toll free 1-800-GO STIHL (1-800-467-8445), visit http://www.stihlusa.com or text your zip code to 78445.
*A majority of STIHL powerheads are built in the United States from domestic and foreign parts and components. "Number one selling brand" is based on syndicated Irwin Broh Research as well as independent consumer research of 2009-2012 U.S. sales and market share data for the gasoline-powered handheld outdoor power equipment category combined sales to consumers and commercial landscapers.