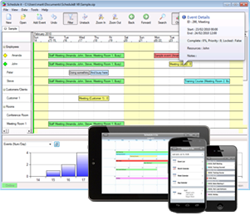 Fantastic tool and friendly UI. The business has seen huge improvements since we've implemented this. Siemens PLC
(PRWEB UK) 12 November 2013
Having office based scheduling tools is only part of the solution. Schedule it Ltd provide employee scheduling software for companies of any size and the latest version of their mobile application 'Schedule it Go' now allows every employee remote and offline access to their schedule and workload with an iPhone, iPad, Android and Windows phone.
With the latest release of their desktop and mobile scheduling software employees and managers can:

Check their schedule and workload
Check the schedule of other approved resources
View and update events online and offline
View directions to customers and clients linked to the event
Access location and contact details of any linked resources
See more benefits at http://www.scheduleit.co.uk
The idea behind any software scheduling solution is simple - they provide you with the ability to create and keep lists and schedules. These can be used by an organiser, planners and managers to easily assign tasks and workload. They can also be accessed by everyone so that they can collaborate and agree on shared assignments, facilities and resources.
Overall, scheduling software is an indispensable tool for any office with a local or mobile workforce. It reduces the need to micromanage, and also allows you to see the work-load of every employee, reducing incidences of assigning too much or too little work. It also reduces incidences of conflicts when it comes to employee and any other resource usage.
Of course, one of its best benefits is the fact that it gets things done quickly.
You can try the latest version of the desktop, online and mobiles versions of 'Schedule it', one of the best employee scheduling solutions available. You can instantly see the cost and time savings you can make by trying all their software free from their website at http://www.scheduleit.co.uk