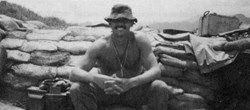 The men and women who serve our country are the real heroes. We are all aware of the sacrifices made by military families across the nation. - Rick Mirer
South Bend, IN (PRWEB) November 11, 2013
Rick Mirer, founder of the affinity social network community "Irish Player Charities" announces Brady Quinn's 3rd and Goal Foundation will be the featured charity for November. He also announces creation of a Facebook page "Fighting Irish Fans who are Veterans or Currently Serving."
Mirer, a social entrepreneur, philanthropist and former NFL player, was integral in creating the initial Irish Player Charities social media presence that has now evolved into an ASNC.
"I think I speak for most Notre Dame and NFL players in saying we have great respect for our Armed Forces," says Mirer. "The men and women who serve our country are the real heroes. We are all aware of the sacrifices made by military families across the nation. The Mirer Family Foundation, is committed to assist programs helping educate the children of those who have made the ultimate sacrifice."
"IPC is proud to recognize our November featured charity, Brady Quinn's 3rd and Goal Foundation," Mirer stated. "Brady's foundation helps homeless veterans find housing that offers a supportive environment free of drugs and alcohol."
Brady Quinn, currently playing for the St. Louis Rams, chose to focus his charitable efforts on veterans due to his great respect for those who have served including his father and grandfather.
IPC also wishes to salute former Notre Dame and NFL star Rocky Bleier and all Notre Dame alumni who served. Bleier was a member of the 1966 National Championship team and captain of the 1967 squad. He had already begun a professional football career when he was called to service. He volunteered for duty in Vietnam and suffered severe injuries in combat that most thought would end his potential professional career. Instead, Bleier played for a decade with the Pittsburgh Steelers and won four Super Bowl Rings.
IPC also announces creation of a facebook page for Notre Dame fans in service. Mirer stated "'Fighting Irish Fans who are Veterans or Currently Servicing' is a place for all Notre Dame fans to honor the military. We look forward to connecting with the global Notre Dame military family through this new page as well as our tribute in a special website section on goirishipc.org."
About Fighting Irish Fans who are Veterans or Currently Serving:
This Facebook page has been created as a direct presence for sharing pictures and information about Notre Dame fans in the military.
About Irish Player Charities:
Irish Player Charities is an affinity social network community that unites Notre Dame sports fans and creates visibility for charitable and community service efforts by University of Notre Dame coaches and player alumni. It also serves as a place where all Notre Dame players, family, friends, alumni and fans can gather. It is not a company or a not for profit. Instead it is a privately financed place where all the Notre Dame global community can network with each other. It is a hub collecting Notre Dame sports related information to allow "one stop" viewing. All those involved in social media are welcomed to join to create visibility for their presences.