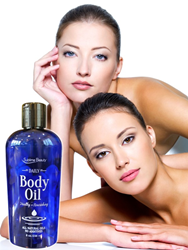 Oils are being rediscovered again, and have been used extensively throughout history for skincare health and well-being.
St. Petersburg, FL (PRWEB) February 27, 2014
Oils have been used extensively throughout history for beauty and health, and there is a rediscovery today of the same wisdom.
Sublime Beauty® offers a Daily Body Oil with 5 beneficial oils and no other additives, chemicals or fragrances. The company also offers a special blend of organic oils for the face and hands.
Through history oils have been popular. The Egyptians used oils extensively, including Cleopatra. The Indian Ayurvedics made use of oils 5000 years ago as did the Chinese. The Greeks took on the wisdom of the Egyptians and Hippocrates (450 B.C - 377 B.C.) used and taught about the use of oils and aromatherapy.
"Today, many are rediscovering how wonderful and powerful oils are for the skin," says Kathy Heshelow, founder of Sublime Beauty®. "Oils are superior in many ways for our skin hydration, and bring a benefit with vitamins, minerals and superior qualities for well-being."
The Daily Body Oil includes Sweet Almond Oil, Sesame Oil, Jojoba, Aloe and Argan Oil. The 8 ounce bottle with flip top is easy to use.
The company offers a 6 page report about the benefits of each oil specifically.
Sublime Beauty® also offers an organic blend of oils for face and hands (Luxurious Facial Oil) in a 0.5 ounce pump with the blend of grapeseed oil, avocado oil, macademia oil, jojoba and oil of tamanu.
"These oils are not sticky and absorb well," says Heshelow. "They have healing qualities as well."
The SublimeBeautyShop offers free standard shipping, VIP Club for discounts and more.
All Sublime Beauty® products are also available on Amazon.