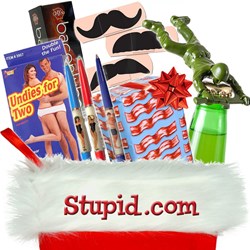 Los Angeles, CA (PRWEB) November 12, 2013
Stocking stuffers aren't just for kids anymore! For adults looking to find a little extra holiday cheer in their stockings this year, online retailer Stupid.com has released a list of stocking stuffer ideas that great for the adults of any age.
With a huge selection of unique funny gifts for adults, Stupid.com has the gifts that are sure to bring the kid out in everyone. Here's just a few of the funny stocking stuffers for adults currently featured on Stupid.com:
Mustache Bandages – These awesome mustache bandages will instantly class up any scrap, cut, or boo-boo. These bandages are so much fun friends and family will cut themselves on purpose just to get one!
Stripper Pens – These pens have a double dose of naughty that even Santa has to appreciate. Just like the classic stripper pens, just turn the pen upside down and enjoy the show.
Army Man Bottle Opener – This retro Army Man Bottle Opener looks just like the plastic toy solders we all grew up playing with. But this time, his mission is to party and pop those pop those bottle caps with extreme force.
Bacon Scented Massage Oil – What is the only thing that guys love more than a hot massage? How about a hot bacon massage! Introducing Baconlube, an oil for those couples who want to add a little something savory to their love life.
Alcohol Breathalyzer Keychain – This stocking stuffer is for that special someone who really loves to party. The Alcohol Breathalyzer Keychain will help keep the party going for years to come without any of those pesky DUI's to deal with.
Fundies! – Give the gift that keeps on giving with a pair of Fundies, underwear for two! These funny undies will keep the party laughing and the recipient blushing. Fundies are great for funny white elephant gifts too!
Wrapping Paper for Adults - With 4 different kinds of gift wrap, such as Bacon Lovers, Happy Effing Holidays, and Pole Dancers, it's easy to make any great stocking stuffer even more funny with one of these wrapping papers.
Stupid.com has been spreading laughs – one gift at a time – since its burst onto the online retail scene in 1998. From great gag gifts, to silly stocking stuffers, the company offers a huge selection of over 3,500 products and 150 gift categories of crazy and insane gifts. Whether its gag gifts for men and funny bacon gifts, or geeky gifts like Star Wars gifts and Doctor Who collectables, Stupid.com is the one stop shop for the most ridiculous gifts on planet earth