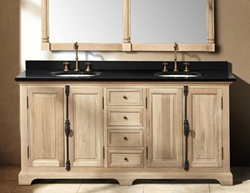 Catching the right deal at the right time can mean saving hundreds of dollars on luxury bathroom vanities from some of the top brands.
(PRWEB) November 11, 2013
HomeThangs.com – the Online Home Improvement Store has made their goal to deliver the right product to the consumer. With that in mind, shopping and home design tips, as well as special product selections are being introduced.
HomeThangs.com is proud to announce the unveiling of a unique new website feature: a rotating five day sale on many of our best bathroom vanity brands. Every five days, a new brand, size, or style bathroom vanity will go on sale for a limited time – simply enter the coupon code listed on the page at checkout for an instant discount. The amount of the sale will vary from week to week and product to product, but these one-off sales allow us to offer some of our most popular products at discounted rates, including many luxury brands that aren't often available at reduced prices.
Catching the right deal at the right time can mean saving hundreds of dollars on luxury bathroom vanities from brands like James Martin, Silkroad Exclusive, Sagehill Designs, Xylem, and many more. These limited time coupons also stack with our existing sales, meaning the savings can be even greater on our already-discounted items. The amount of time left on the sale is clearly displayed on the page, making it a little easier to get the deal before it's gone, and also to check back when new sales pop up.
For those in the process of planning a major bathroom remodel, this offers a unique opportunity to get a great deal on the most desirable bathroom furnishings, from high quality solid wood bathroom vanities to trendy, spa-inspired open shelf bathroom vanities. Styles range from classic to modern, while sizes run the gamut from petite single vanities to large double bathroom vanities that are perfect for a master bathroom, and all the discounted items come from our top brands.
To check out the latest discounts, visit the bathroom vanity sale page here.
HomeThangs.com is not only a home improvement superstore, it also provides expert design tips and a comprehensive shopping guide, taking the ideas from professional interior designers, and offering tips to the consumers on how to pick the products to best suit their needs.