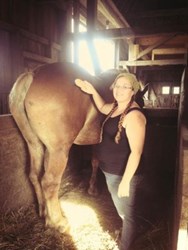 "Modern" farming with huge machinery and enormous dependence on non-renewable fuel has only been around for a little over 50 years. It is horse-based farming that is historically the normal way to farm.
Lucerne Valley, CA (PRWEB) November 13, 2013
The Flip Flop Ranch Farmstay is a small farming operation and farmstay that believes that farming can be done in a way that helps the environment rather than hurts it. To accomplish this, they are doing a Kickstarter Project to help raise the funds to trade their tractors in for draft horses. Donating earns you some fantastic pledges such as an overnight stay at the ranch's farmstay and -- more importantly -- the satisfaction of helping to start a horse-powered farm. Check out the Kickstarter and get involved.
Recently, the folks at Flip Flop Ranch have acquired an additional 100-acres to grow and expand the availability of their wholesome poultry, eggs and meats and to give their cows, sheep, pigs and chickens the opportunity to eat grass the way nature intended! They will be using draft horses to help cut hay for feeding the livestock through the winter.
This family-run farm has already dedicated over $50,000 of their own money to the project and is asking for another $50,000 from the Kickstarter community in order to help them purchase horses and equipment.They have some pretty neat reward pledges such as:

Spend 2 nights at the Flip Flop Ranch Farmstay (at nearly a 50% discount)
Attend a horse farming workshop
Grass-fed lamb, turkey, chicken or beef
Name a draft horse
Have a wedding or other event at the ranch
Ultimately, they hope to make a greater impact on the way food is consumed and produced. Check out their project and help make this farm sustainable.
###
Flip Flop Ranch is a working farm teaching visitors about farm life and encouraging self-sufficiency. We offer overnight farmstays, tours, classes and workshops to teach people about farming and homesteading skills.
If you'd like more information about the Flip Flop Ranch project, or if you'd like to schedule an interview with Serina or Lisa, please email FlipFlopRanch(at)gmail(dot)com, send them a tweet @FlipFlopRanch or visit them at facebook.com/FlipFlopRanch.
The Kickstarter project link is: http://kck.st/17DJLju.