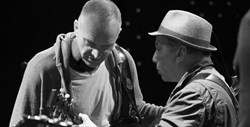 Denver, Colorado (PRWEB) November 11, 2013
English rocker Sting and New Jersey-born folk singer Paul Simon on tour together? Unlikely as it may sound on the surface, tickets have already been released and sales are taking off.
"But that's not surprising," said Marta Ault at online ticket marketplace BuyAnySeat.com. "The two singer-songwriters both have varied multi-instrumental talents and massive fan bases. They actually have a lot more in common than most people might think."
The former Police-man and ex-Garfunkle duet partner have announced they will hit the highway for the first time next year. Their tour is called simply: Paul Simon and Sting: On Stage Together Tour.
The 18-date co-headlining journey will kick off on February 8, 2014 at the 19,000-seat Toyota Center in Houston, Texas and feature the two artists playing their hits in combo and on their own. The wrap is currently set for the 16,486-seat Amway Center in Orlando, Florida on March 16, 2014.
"Paul Simon will be touring on top of his most recent album, 2011's critically-acclaimed So Beautiful or So What, while Sting will be promoting his 11th studio album, The Last Ship, which features songs from his upcoming musical," said Marta Ault at online ticket marketplace BuyAnySeat.com. "Tickets sales are very active."
"That's why we're proud to offer fans the most comprehensive and continually refreshed selection of concert tickets available online, with a worry-free guarantee to protect their purchase.
"To access the complete selection of Sting and Paul Simon tickets we have available, fans can go to BuyAnySeat.com and search for Sting and Paul Simon – then select their tickets," said Ault.
Audiences were able to get a pre-tour taste of Simon and Sting teaming up when they appeared together earlier this year for the Robin Hood Foundation as part of Sting's Back to Bass Tour; and they performed acoustic versions of "The Boxer" and "Fields of Gold".
"After we finished it," said Paul Simon, "we both looked at each other and said: 'Wow. That's pretty interesting.'"
With a closer look, Paul Simon, at age 72, and Sting, now 62, have a lot more in common than meets the eye. Both are iconic singer-songwriters. Both are noted for their multi-instrumental talents. Both have won numerous Grammy Awards. And both artists even lived in the same building for 20 years on the Upper West Side of Manhattan.
Sting began his career as the main songwriter, lead singer and bassist for a rock band called The Police in 1977, before starting his solo career. Winner of 16 Grammy Awards, Sting's musical talents encompass vocals, bass guitar, double bass, mandolin, lute, guitar, piano, keyboards, synthesizers, guitalele, harmonica, saxophone, oboe, hurdy gurdy, synclavier, drum machine, bass pedals and percussion.
Simon opened his career as part of the duo Simon & Garfunkel in 1964, and wrote most of the songs, including three that reached Number One on the U.S. singles charts: "The Sounds of Silence", "Mrs. Robinson", and "Bridge Over Troubled Water". Simon has earned 12 Grammys, including the Lifetime Achievement Award. His talents include vocals, guitar, bass guitar, piano, percussion, lute, alto saxophone, and piccolo. (Source: wikipedia.org)
Simon's music incorporates elements of folk rock, folk music, soft rock, and worldbeat – while Sting's varied style encompasses rock, pop, jazz, reggae, classical, New Age and New Wave. The two singer-songwriters will be backed up by their respective bands on the tour.
"Paul and I both share this abiding curiosity about music and where it's going," Sting said. "We don't really know where this is going. We don't really have a clue how this is going to pan out."
To shop for discount Sting and Paul Simon tickets, visit BuyAnySeat.com.
About BuyAnySeat.com:
An online ticket marketplace, BuyAnySeat.com connects sports, theater and other live entertainment fans to an extensive worldwide network of ticket sellers. The site's simplified listings and navigational tools enable fans to easily locate, compare and purchase inexpensive, discounted or lower-priced tickets to virtually all advertised sports and entertainment events around the globe.
The marketplace, which is PCI-compliant and Norton Secured, also provides customers with a complete Worry-Free Guarantee on all ticket purchases. Based in Denver, Colorado, BuyAnySeat.com is a subsidiary of Denver Media Holdings. For more information, please visit http://buyanyseat.com.