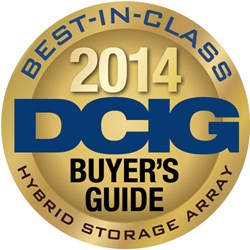 We believe, based on our research, that the key differentiator between a hybrid storage array and a standard array is dynamic data placement in a storage pool that combines the best that flash memory and HDDs have to offer. - Jerome Wendt.
Austin, TX (PRWEB) November 11, 2013
The rise of virtualization has dramatically shifted the data center landscape. The shift has ushered in significant changes from servers to desktop to storage and has ushered in fundamental changes in how IT approaches performance, efficiency and utilization. Coupled with advancements in flash memory technology and users have more choices than ever before on how best to meet their specific IT requirements.
No more have the choices been felt than on the data storage environment. Based on a recent survey, two out of three organizations with more than 250TB of total storage in virtualized environments had already implemented or were planning to implement hybrid storage arrays. And, as DCIG noted in the development of its recently issued DCIG 2014 Enterprise Midrange Array Buyer's Guide, 75% of midrange arrays support flash memory in some form or fashion, making the incorporation of flash to mainstream arrays the norm versus "cutting edge." However, what makes hybrid arrays of particular interest to businesses, is not just the incorporation of flash memory, but the opportunity to achieve a balance of performance, capacity, and cost that makes sense in addressing a broad range of business requirements.
"We believe, based on our research, that the key differentiator between a hybrid storage array and a standard array is dynamic data placement in a storage pool that combines the best that flash memory and HDDs have to offer," said Jerome Wendt, president and lead analyst, DCIG, LLC. "The emergence of this new category of storage array combines the scalability and affordability of low-cost HDD technologies with high I/O performing and energy efficiency of SSDs, allowing users to maximize performance while minimizing costs. With our latest Buyer's Guide on Hybrid Storage Arrays, end users have a great resource to help identify and understand what solutions are available along with key factors to consider when deciding which solution to test and deploy, and ultimately help best address their data management needs."
For the inaugural Hybrid Storage Array Buyer's Guide, DCIG, LLC evaluated 41 offerings from 17 companies. After an initial questionnaire of more than 100 questions was completed, participating companies' capabilities were assessed from the questionnaire and from information available in the public domain. Solutions were then evaluated for 148 features, and weighted after conversations with end-users. After scores were compiled, solutions were assessed and ranked either "Best-in-Class," "Recommended," "Excellent," "Good," and "Basic" across functionality and capability relative to the overall market landscape.
The intent for this Buyer's Guide, as with all DCIG Buyer's Guides, is to provide an "at-a-glance" comparison from which end users can select the most appropriate solution for their existing needs. This Buyer's Guide also provides perspective on how solutions from less well known midrange array providers compare against established and better known brands.
The DCIG 2014 Hybrid Storage Array Buyer's Guide Top 10 solutions include (in alphabetical order):
EMC VNX5300; VNX5500; VNX5700; VNX7500; Netapp FAS3250; Oracle Sun ZFS Storage 7420 Appliance; Tegile Zebi HA2100; HA2100EP; HA2400; and HA2800.
The Tegile Zebi HA2800 earned the Best-in-Class ranking among hybrid storage arrays evaluated in this Buyer's Guide. The Tegile Zebi HA2800, the latest array from Tegile, can function either as an all-flash array or as a hybrid array with the addition of one or more expansion chassis. In comparison to its counterparts, the Tegile Zebi HA2800 stood out in the following ways:

The best balance of strengths across all scoring categories.
Recommended or Excellent in all scoring categories.
Other features that users will find useful on the Tegile Zebi HA2800 include:
3x-5x effective capacity from deduplication and compression, along with boosting the effective capacity of the already impressive 192B cache.
Excellent data protection features that support per-LUN automated snapshot policies complemented by replication
Support for all VMware vSphere VAAI features evaluated by DCIG.
Unified storage through concurrent support for both SAN and NAS protocols.
The DCIG 2014 Hybrid Storage Array Buyer's Guide achieves the following objectives by:
Providing an objective, third party evaluation of hybrid storage arrays that evaluates and scores their features from an end user's viewpoint.
Scoring and ranking the features on each hybrid storage array solution that matters most to end users and then presents these results in an easy to understand table that displays the products' scores and rankings so they can quickly ascertain which hybrid storage array is the most appropriate for their needs.
Providing a standardized data sheet for each of the hybrid storage arrays so users may do quick comparisons of the features that are or are not supported with each product.
Providing insight into which features on a hybrid storage array will result in improved performance.
Giving any organization a solid foundation for getting competitive bids from different hybrid storage array providers that are based on "apples-to-apples" comparisons.
Providing insight into what features hybrid storage array providers offer to optimize an organization's VMware integration.
"It comes as no surprise that data storage requirements continue to escalate across the board, and with the emergence of new architectures and technologies, end users have more choices than ever before," added Wendt. "Through dynamic data placement, hybrid storage arrays ultimately achieve a balance of performance, capacity, and cost that makes sense in addressing a broad range of business requirements. We know our newest Buyer's Guide will help end users narrow down the right options to best meet their needs."
Disclosure and Methodology
DCIG identified 17 companies that provide hybrid storage array solutions. Each array had to meet the following criteria:
Must dynamically place data in a storage pool that combines flash memory and HDD storage.
Must support one or more of the following storage networking protocols:
o Fibre Channel and/or FCoE
o iSCSI
o NFS

Must primarily function using storage local to the array, storage expansion units and/or its direct peers (more than a cloud gateway)Primary purpose had to be for managing mobile devices.
Must support scaling to a minimum of 12 disks and 10 TB of raw capacity. This requirement may be met through the use of storage expansion units
Must be available as an appliance that is available as a single SKU and includes its own hardware and software
Must provide sufficient information for DCIG to draw a meaningful conclusion
Must be generally available prior to September 1st, 2013.
In every case the participating vendor had the opportunity to review and respond to the survey and the information regarding their product displayed on the data sheets included in this Buyer's Guide. Hybrid storage arrays were then put into the respective Buyer's Guides based upon their starting price point.
There were some cases where hybrid storage array providers elected not to respond to DCIG's inquiries or requests. While those products were still covered in this Buyer's Guide, the information as presented in this Guide may be incomplete or not represent all of the product's capabilities. In cases where no responses were received, a notation is included on the bottom of that product's data sheet indicating that all information displayed is strictly drawn from publicly available sources.
DCIG also spoke to various end-users to get a sense of how they would weight their needs in these various areas. DCIG then evaluated the vendors' capabilities by applying weighting indicated from our conversations with these end-users. No vendors, whether clients or not, were afforded preferential treatment in the Buyer's Guide. All research was based upon information provided directly by vendors, research and analysis by DCIG and other publicly available information.
It is worth noting that each Buyer's Guide is not intended to be a substitute for internal testing. DCIG encourages any organization that is considering the purchase of any solution included in a Buyer's Guide to do its own in-house testing.
Availability
The DCIG 2014 Hybrid Storage Array Buyer's Guides is available immediately and may be downloaded for no charge with registration at the following http://pages.tegile.com/DCIG_Buyers_Guide_2014_Download.html
Resources:
DCIG Blog: http://www.dcig.com
About DCIG
DCIG analysts provide informed, insightful, third party analysis and commentary on IT hardware, software and services.
DCIG independently develops and licenses access to DCIG Buyer's Guides that provide actionable intelligence through comprehensive, in-depth analysis of data center infrastructure product features. DCIG also develops sponsored content in the form of blog entries, case studies, product reviews, special reports and executive, standard and full-length white papers.
DCIG's research serves the need of C-level executives, IT managers, systems and storage engineers and architects for multiple industries as well as the needs of enterprise, SME, channel, reseller and service providers.