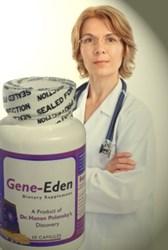 Health problems or disabilities due to congenital CMV infection may develop two or more years after birth. - CDC
Rochester, NY (PRWEB) November 12, 2013
Most women do not realize that the Human Cytomegalovirus (CMV) can be passed to their newborns through breast milk. polyDNA found that in its October 2013 survey, many women asked this question. As a service to its customers, polyDNA published an update to its page on herpes on its website.
Premature babies are more sensitive to the harmful effects of CMV. The virus "is acquired by the newborn mainly via breast milk and … may cause severe symptomatic disease in preterm newborns (1)" according to a study published in 2007 in the Journal of Chemotherapy (1).
In addition, the CDC notes on a webpage last updated on July 28, 2010 that "Because CMV infection after birth may cause disease in very premature or low birth weight infants, mothers of these infants should consult their healthcare providers about breastfeeding (2)."
Although premature babies are more sensitive to CMV, mothers of healthy babies should also protect them from CMV. This is because CMV establishes a lifelong infection in these babies, which can cause a major disease later in life.
As it turns out, almost every mother is infected with CMV. "Among every 100 adults in the United States, 50–80 are infected with CMV by the time they are 40 years old (2)."
Even worse, almost all of these mothers pass CMV on to their babies. A study found that "In 40 out of 57 seropositive (HSMV Infected) mothers (70.2%) the virus reactivated and was excreted in the milk during the six weeks postpartum lactation period. Maternal CMV reactivation was shown by viral shedding in breast milk (3)." This study was published on January 19, 2011 in the Italian Journal of Pediatrics.
"Health problems or disabilities due to congenital CMV infection may develop two or more years after birth according to the CDC (4). We therefore recommend that every woman take Gene-Eden-VIR to help her immune system target the latent CMV before she becomes pregnant, or after she delivers the baby." – Mike Evans, polyDNA
Gene-Eden-VIR is a natural herpes remedy proven in a clinical study to reduce symptoms associated with a latent HSV infection (5). A recent post marketing clinical study published in the peer reviewed, medical journal Pharmacology & Pharmacy, in a special edition on Advances in Antiviral Drugs on August 12, 2013 showed that Gene-Eden-VIR is safe and effective (5).
Each ingredient of Gene-Eden-VIR was chosen through a scientific approach. Scientists scanned thousands of scientific and medical papers published in various medical and scientific journals around the world to identify the safest, most effective natural ingredients that target the latent form of herpes (5).
To learn more about Gene-Eden-VIR and the Cytomegalovirus, visit http://gene-eden-kill-virus.com/. All orders of Gene-Eden-VIR are completely confidential, and no information is shared or sold to any third party. Privacy is assured.
Reference:
(1) http://www.ncbi.nlm.nih.gov/pubmed/18073182
(2) http://www.cdc.gov/cmv/transmission.html
(3) http://www.ijponline.net/content/37/1/6
(4) Cytomegalovirus (CMV) and Congenital CMV Infection, December 6, 2010
http://www.cdc.gov/cmv/congenital-infection.html
(5) http://www.scirp.org/journal/PaperInformation.aspx?PaperID=36101
polyDNA is a biotechnology company that develops dietary supplements using the unique scientific method developed by Dr. Hanan Polansky, which is based on Computer Intuition.
In addition to his unique scientific method, Dr. Polansky published the highly acclaimed scientific discovery, called Microcompetition with Foreign DNA. The discovery explains how foreign DNA fragments, and specifically, DNA of latent viruses, cause most major diseases.
polyDNA developed Gene-Eden-VIR, an antiviral natural remedy that helps the immune system kill latent viruses.