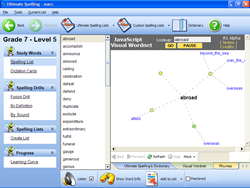 Exposure in the class room to technology creates an atmosphere of familiarity.
New York City, NY (PRWEB) November 21, 2013
With a background in information technology, Kelly Walsh has a good basis for his opinion that assimilation of technology within the classroom is a necessity to the continued progress of learning spelling, as he discussed in a recent interview published on the eReflect Ultimate Spelling blog. In addition to teaching spelling alongside other important aspects of English linguistics, Walsh discussed the important idea of teaching technology itself. Because it is beneficial as a whole to the advancement of education, Walsh indicated that technology will help usher in the accomplishment of a full range of education, and ultimately career success, facilitated by the responsible and learned use of modern technology.
Exposure in the classroom to technology creates an atmosphere of familiarity. Along with this, Walsh divulged that by making technology a required part of the general curricula, students will be prepared to enter a world that requires productivity presented by and used in different forms. Learning to utilize things like word processing programs, internet for information, charting programs, and the like, will be a major factor in the success of students, principally as they work their way through degree programs and ultimate enter the working world.
Another portion of the interview with the Ultimate Spelling editor revealed resources that Walsh promotes for their accessibility and simplicity. Walsh announced that EmergingEdTech released a list of 15 apps designed for computer, tablet, and smartphone use. Furthermore, these apps emphasize the teaching of language, improving linguistic skills, from basics to more advanced language concepts. Walsh proudly shared the resources (which can be found in link form in the interview itself), and made it a point to tell of the low price of many of these applications, while others are free. Such accessibility to these resources is counted as one of the impressive gains modern information provides in both fields of language arts and technology information.
For more information about how Ultimate Spelling software can improve spelling performance for you and your family, please visit the official website at http://www.ultimatespelling.com.
About Ultimate Spelling™
Ultimate Spelling provides a modern and easy to use spelling software that has been designed with one goal in mind – making children want to learn.
It is a fast and easy way to master even the most complicated spelling, without the need to write long lists or complete boring tests.
In fact, Ultimate Spelling provides more than just spelling help. It is a complete educational resource that boosts all level of a child's literacy.
Containing a personal computer tutor, Ultimate Spelling is the most realistic step-by-step guide to flawless spelling ability.