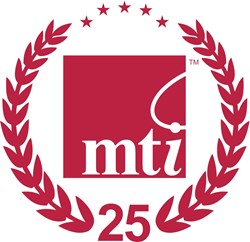 We are truly proud to have been at the forefront of innovation in the storage industry throughout the last decade of working with EMC.
Godalming, Surrey (PRWEB UK) 12 November 2013
MTI Technology is today celebrating a decade of working with EMC® Corporation, in what has become one of Europe's strongest technology and service partnerships.
The global solutions and services provider has integrated EMC technologies for the past ten years, delivering a wide range of end-to-end services directly and on behalf of EMC. MTI has become one of EMC's top partners across EMEA – receiving EMC's awards for Partner of the Year 2012 and VSPEX Partner of the Year 2013.
The partnership has helped thousands of clients across public, social, and private market sectors to transform their businesses by delivering value through secure, service-orientated infrastructure. Joint client engagements include Avis, EADS, Car Expert, L'Oreal, Parsons Brinckerhoff, Swiss Life, The Open University, and Toyota.
Adrian McDonald, EMEA President at EMC, said: "MTI is uniquely qualified to market, consult on, install, and service EMC solutions. That we are now celebrating our tenth anniversary of partnership is testament to the excellent relationship we have established. Together we are helping businesses in a wide range of sectors transform their operations to the cloud era in which we live; helping them optimise their operations and create real competitive edge. We look forward to continuing this highly productive partnership long into the future."
With the launch of the partnership MTI secured the highest level of EMC accreditation: EMC's Signature Partner status. Over the past decade the service provider has benefited and grown from incorporating new technologies and services resulting from EMC's many acquisitions, such as Data Domain and Isilon. This accreditation underpins operational excellence and the provision of world-class, professional, consulting and managed services to companies of all sizes, ranging from high-growth start-ups to Fortune 1000 corporations – such as AT&T, ATOS, Bird & Bird, GAM, NHS Royal Marsden, UK Mail and Volvo Trucks.
Keith Clark, CEO of MTI, said: "We are truly proud to have been at the forefront of innovation in the storage industry throughout the last decade of working with EMC. Together we've had ten exciting years made up of various achievements, including the most recent launch last month, in Milan, of EMC's latest state-of-the-art VNX unified storage systems. The milestone of a decade of working with EMC and MTI's 25th anniversary of being in business are two huge triumphs."
ENDS
Notes to Editors
About MTI
MTI – Managing Data Securely
MTI is a global solutions and service provider, underpinned with operational excellence and experience gained through thousands of client and partner engagements. With more than 25 years experience working extensively across public, social and private market sectors, MTI has developed proven methodologies and best practices aligned with recognised Industry Standards (ITIL, Prince2).
MTI's consultants and specialists work collaboratively to provide holistic, tailored solutions and services across its Datacentre, Security & Managed Services Practices, whether in the corporate datacentre (private cloud), in a hosted environment or a hybrid service model. MTI aims to develop a partnership that will become a recognised asset, providing support and guidance through the myriad of choice in the market to ensure the right strategic decisions and investments are made.
More information is available at http://www.mti.com or you can follow us on Twitter @MTI_Technology.
EMC and VNX are either registered trademarks or trademarks of EMC Corporation in the United States and other countries. All other trademarks used herein are the property of their respective owners.