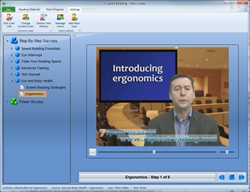 Reading is the mother of all study skills. If you don't know how to read well, it's very difficult to do well in school.
New York City, NY (PRWEB) November 18, 2013
7 Speed Reading recently interviewed Abby Marks Beale of RevItUpReading.com about the resources available on her website. In a September 19th blog post on eReflect's 7 Speed Reading website, Beale explained that she used to hate reading and went through college without knowing anything about reading faster or better.
By 1989, however, she began teaching children in private schools speed reading and study skills, which prompted her to create her own speed reading training company. During the interview, the 7 Speed Reading editor pointed out that Beale has written two books on speed reading, as well as a book about success skills and strategies for lifelong learning. When asked if she considers speed reading one of those necessary strategies for success, Beale said, "Reading is the mother of all study skills. If you don't know how to read well, it's very difficult to do well in school."
Beale now offers online and on-site training for students, as well as for professionals at conferences and in companies, with webinars on speed reading available. Beale explains that she condensed her half-day corporate training into a three one-hour sessions spread over three weeks deliverable online to help individuals learn this valuable skill.
Beale also offered advice for people who wish to improve their reading skills but lack access to an internet connection. She suggests such people read books on speed reading, search for speed reading courses in their area or consider using a public library for internet. As she said, "Where there is a will, there is a way!"
The 7 Speed Reading software developed by eReflect shares Beale's goals of empowering people to learn how to read faster and better by choosing their favorite books from a large collection of free e-books included in the software. The 7 Speed Reading editor hopes people who wish to improve their reading skills try the software, which may be used along with Beale's resources through RevItUpReading.com.
For more information about the benefits of using 7 Speed Reading, please visit the official website at http://www.7speedreading.com.
About 7 Speed Reading™
7 Speed Reading is the only modern speed reading software that uses the latest technology to produce superior results.
The software provides its users with a new way to master speed reading that guarantees three times the reading speed along with improved memory and comprehension.
The software is poised as the most comprehensive speed reading system anywhere. It contains seven learning strategies, fifteen software activities, video training, advanced tracking capabilities and many more exciting features.