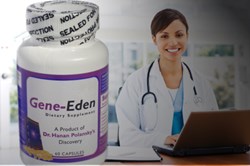 Because the latent HSV-1 is spread so easily, individuals need a safe and effective remedy against the virus. We recommend Gene-Eden-VIR. – Mike Evans, polyDNA
Rochester, NY (PRWEB) November 13, 2013
A common misconception by teenagers is that genital herpes is only transmitted through regular sex. Because of this misconception, there is an increasing trend to engage in oral sex (1). People know that genital herpes is caused by HSV-2. Cold sores are usually caused by HSV-1. However, HSV-1 can also cause genital herpes.
"HSV-1 now is the predominant herpes strain causing genital infection," explained Dr. David Kimberlin, chair of infectious diseases at the University of Alabama at Birmingham School of Medicine (1)."
polyDNA points out that although oral sex is safer in the sense that it cannot result in an unintended pregnancy, it nevertheless carries its own significant risk of transmission of sexually transmitted infections, including transmission of HSV type 1 (HSV-1) from the mouth to genital mucosa.
Up to 60% of Americans in their 20s and 30s are infected with HSV-1. The overwhelming majority of them carry the infection in their mouths. The medical community fears that these individuals could cause an epidemic of new HSV-1 genital herpes cases spread through oral sex. "Recent research indicates that HSV-1 is becoming a major cause of genital herpes in industrialized countries. One study found nearly 60 percent of genital herpes infections were caused by HSV-1, the researchers noted (1)."
Even more worrying is the fact that as genital HSV-1 cases increase, so could cases of newborn babies with potentially fatal herpes infections. "HSV-1 and HSV-2 can also cause significant problems for newborn infants, who don't yet have mature immune systems capable of fighting the viruses. As many as 30 percent of infected babies die from this infection if they have the most severe form of the disease (1)."
"Because the latent HSV-1 is spread so easily, individuals need a safe and effective remedy against the virus. We recommend Gene-Eden-VIR." – Mike Evans, polyDNA
A study published on August 12, 2013 in the peer reviewed, medical journal Pharmacology & Pharmacy, in a special edition on Advances in Antiviral Drugs, showed that Gene-Eden-VIR reduced herpes symptoms. Study authors wrote that, "Individuals infected with the herpes virus…reported a safe decrease in their symptoms following treatment with Gene-Eden-VIR (2)." The study authors also wrote that, "We observed a statistically significant decrease in the severity, duration, and frequency of symptoms (2)."
To learn more about Gene-Eden-VIR, and herpes visit http://gene-eden-kill-virus.com/Herpes-Remedy.php. All orders of Gene-Eden-VIR are completely confidential, and no information is shared or sold to any third party. Privacy is assured.
References:
(1) U.S. Teens More Vulnerable to Genital Herpes, Study Suggests
http://www.drugs.com/news/u-s-teens-more-vulnerable-genital-herpes-study-suggests-48227.html
(2) Gene-Eden-VIR Is Antiviral: Results of a Post Marketing Clinical Study
http://gene-eden-kill-virus.com/PP_Gene-Eden-VIR-is-Antiviral.pdf
polyDNA is a biotechnology company that develops dietary supplements using the unique scientific method developed by Dr. Hanan Polansky, which is based on Computer Intuition.
In addition to his unique scientific method, Dr. Polansky published the highly acclaimed scientific discovery, called Microcompetition with Foreign DNA. The discovery explains how foreign DNA fragments, and specifically, DNA of latent viruses, cause most major diseases.
polyDNA developed Gene-Eden-VIR, an antiviral natural remedy that helps the immune system kill latent viruses.