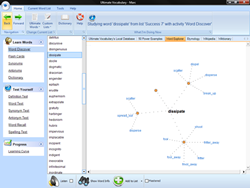 ...children learn to speak their language without studying grammar rules. English learners must focus on vocabulary and listening a lot...
New York City, NY (PRWEB) November 20, 2013
In a recent blog post, Ultimate Vocabulary interviewed Fatih Erdem of Power-English.net. Erdem created the website as a resource to learn more about the essentials of English, with advice about improving vocabulary, grammar and even understanding slang. The interview revolved around Erdem's experience and his opinion about focusing on vocabulary or grammar first.
In his discussion with the Ultimate Vocabulary editor, Erdem explained that he is not a native English speaker and has worked to improve his English skills for many years. In his country, he was taught English using traditional methods and textbooks, and finally decided to build the website to help others who were frustrated with the same experience that did little to make him fluent in the language.
One of the highlights of the interview was Erdem's opinion about where students should focus their attention first when learning English. When the Ultimate Vocabulary editor asked if Erdem believes people should start with a focus on grammar or vocabulary, he responded that "children learn to speak their language without studying grammar rules. English learners must focus on vocabulary and listening a lot" without focusing too heavily on grammar rules. As he pointed out, he received good grades in English grammar in school, but wasn't able to speak the language fluently.
Erdem went on to endorse the Ultimate Vocabulary software for improving vocabulary, adding that it can help people improve vocabulary in a specific area of business English vocabulary to find a job overseas or with an international company.
He cited Ultimate Vocabulary as "the most powerful vocabulary builder which I have used. It is easy and fast to learn lots of new slang and idioms that are difficult to learn from textbooks. I highly recommend Ultimate Vocabulary for English learners."
Erdem's website itself is a good resource for English learners. The site provides mp3 audio lessons that he feels can help people learn English from anywhere. He plans to add additional listening material to his website in the near future.
For more information on how you can benefit from Ultimate Vocabulary, please visit its official website, http://www.ultimatevocabulary.com.
About Ultimate Vocabulary™
Ultimate Vocabulary provides a proven and powerful platform, built to improve anyone's vocabulary.
The interactive self-improvement system provides more learning tools than any other program on the market, as well as more information on words.
The Ultimate Vocabulary software provides each and every user with a personal computer tutor. Providing a step-by-step guide to learning a powerful vocabulary, Ultimate Vocabulary is the learning tool everyone can benefit from.
Of course, the software is also backed by eReflect's iron-clad money back guarantee.