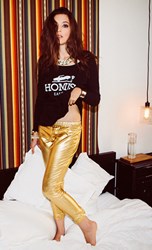 Metallics are undoubtedly one of the most interesting trends of the season.
Los Angeles, CA (PRWEB) November 13, 2013
Silver and gold were all over the spring 2013 runways in London, Milan and Paris and top fashion magazines have since gone crazy for shimmer this season. GoJane's buyers took note and have carefully curated an enviable collection of shiny rompers, tops, leggings, joggers, shorts, dresses, skirts, jackets, hoodies, sweaters, heels, flats, accessories and more on its new Metallic Trends page.
The Metallic Trends collection varies from small pieces with a little pop like GoJane's Mixed Media Skirt and Lucite Case Metallic Clutch to bolder items like GoJane's Comfy Coated Joggers and Faux Leather Strappy Jumpsuit.
In keeping with the youthful spirit of the website, GoJane has also added metallic pieces in colors like red, pink, blue, bronze and black, so shoppers can shine in an even broader array of hues and test their own boundaries of style while expressing individual flair.
"Metallics are undoubtedly one of the most interesting trends of the season," says Emily Devine, GoJane stylist and blogger. "This is a look that is sure to grab attention and proves once again GoJane is at the forefront of fashion. We're excited to expand our website and hope our customers are as thrilled with our Metallic collection as we were to put it together."
GoJane clothing sizes typically run from Small to Large, or about 1/2 to 11/12. Shoe sizes range from about 5.5 to 10, depending on the style. Please visit GoJane.com for more details about specific items.
GoJane's Metallic Trends can be found at: http://www.gojane.com/trends-metallic.html.
About GoJane.com
GoJane is made up of a dedicated team of fashion fanatics who are committed to connecting customers with their own unique fashion sense. For more than 14 years, GoJane has been devoted to elevating style and self-perception while keeping fashion fun and inclusive of all trends. GoJane's team of buyers is constantly on the lookout for the next must-haves. GoJane adds tons of new styles every day to keep its shoppers at the forefront of fashion. Why wait when you can find something new at GoJane.com?
###