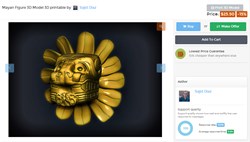 "We believe that 3D printing will shake the ground of manufacturing pretty soon," says Marius Kalytis, CEO of CGTrader.com.
Vilnius, Lithuania (PRWEB) November 12, 2013
In the beginning of November, CGTrader finished the development of a new feature which let clients to go further in engaging the 3D printing technology. From now on, buyers can order a 3D printed version of a model and wait for it to arrive through mail. This was achieved by starting a collaboration with Sculpteo.
The new feature will let buyers get an additional advantage and buy not only 3D print-ready models but also order tangible objects straight to their home. A buyer can start to adjust the order of the desired 3D printable model with one click - he will be redirected from model marketplace to a 3D printing service.
An additional feature will be a valuable service not only for the buyers but for the sellers as well. The 3D print-ready models which they will upload to CGTrader will be uploaded on Sculpteo website as well. Therefore 3D designers acquire an exceptional opportunity to position their models in two marketplaces at one time.
CGTrader.com CEO Marius Kalytis is glad to give clients a new possibility to become a bigger part of the 3D printing breakthrough. "We believe that 3D printing will shake the ground of manufacturing pretty soon. Therefore, we are waiting and getting ready for it anxiously and we surely do not want to be in the end of the crowd when it will happen," says Kalytis.
About CGTrader.com:
CGTrader was launched two years ago - in 2011. Company has a vision to democratize the rapidly growing 3D market. Venture capital fund Practica Capital assigned 185,000 euros to CGTrader for the business development in early 2013. There are more than 23,000 members of the community right now.