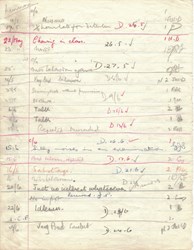 Sabotage', 'Fighting In Class', 'Idleness', 'Nuisance', 'Misconduct', 'Silliness', 'Shoving' and 'Just No Interest Whatsoever' are just a few of the misdemeanours for which John received detention.
Lancashire, England (PRWEB UK) 11 November 2013
Quarry Bank High School
John Lennon Detention Sheets
TracksAuction.com
Online Bidding Starts 22nd November 2013
Viewing Day at Hard Day's Night Hotel,
Central Buildings, North John Street,
Hard Day's Night Suite, Liverpool L2 6RR
Sunday 17th November 2013. 11am to 4pm.
Press Call 10:30am

A pair of detention sheets from 1955/56 from Quarry Bank High School, Allerton relating to John Lennon will be auctioned by TracksAuction.com on 22nd November 2013.
'Sabotage', 'Fighting In Class', 'Idleness', 'Nuisance', 'Misconduct', 'Silliness', 'Shoving' and 'Just No Interest Whatsoever' are just a few of the misdemeanours for which John received detention. On some occasions he managed to receive 3 detentions in one day!
John Lennon started at Quarry Bank High School For Boys on the 4th September 1952. It is a small grammar school in Allerton, Liverpool founded in 1922. John spoke candidly in 1968 about his first day at the grammar school in 'The Beatles', the group's official biography by Hunter Davies. Hunter then wrote:
"John has a clear image of his first day at Quarry. 'I looked at all the hundreds of new kids and thought, Christ, I'll have to fight all my way through this lot, having just made it at Dovedale'.
'There was some real heavies there. The first fight I got in I lost. I lost me nerve when I got really hurt. Not that there was much real fighting. I did a lot of swearing and shouting, then got a quick punch. If there was a bit of blood, then you packed in. After that, if I thought someone could punch harder than me, I said O.K., we'll have wrestling instead'.
'I was aggressive because I wanted to be popular. I wanted to be the leader. It seemed more attractive than just being one of the toffees. I wanted everybody to do what I told them to do, to laugh at my jokes and let me be the boss.'
Looking back now at his school years John has absolutely no regrets. 'I've been proved right. They were wrong and I was right. They're all still there, aren't they, so they must be all failures'."
Pete Shotton, John's best friend from Woolton, who has authenticated the detention sheets, started at Quarry Bank at the same time as John. In his book 'John Lennon: In My Life' Pete wrote:-
"It didn't take us very long to establish our credentials as our class's resident clowns. We thought nothing of hiding alarm clocks, timed to go off in the middle of a lesson, at the bottom of our school satchels, or filling a bicycle pump with ink to squirt at our less vigilant masters when their backs were turned, or riggin up the blackboard to collapse the instant the teacher began writing on it."
"John and I, in short, laughed our way through Quarry Bank. We didn't learn much of anything, but, thanks entirely to John, I thoroughly enjoyed my five years there. And I'm quite certain John would have said the same for me."
Hunter Davies Beatles biographer remarked recently on the detention sheets: "When I was interviewing John, back in the Sixties, he delighted in re-counting all his misdemeanours at school, along with Pete Shotton, how naughty they were, then laughing at their own bad behaviour. I thought he was exaggerating, flamming it up for effect , as successful people do when they get older, making themselves more a rebel than they were - but it turns out to be all TRUE. These detention notes prove it. In a way they are laughable, in this permissive aged, being detentioned for chewing gum or shouting, but at a grammar school in the Fifties- the sort of which I also attended - these were seen as terrible crimes, almost hanging offences, so the teachers liked to suggest…"
Estimate £2,000 to £3,000
Other items included in the auction are :- a Beatles signed White Album (£60,000 to £80,000), handwritten lyrics to an unpublished sixties song by Paul McCartney (£30,000 to £40,000), John Lennon's cufflinks (£3,000 to £4,000), an unpublished John Lennon sketch (£7,000 to £8,000) plus over 100 other lots of high quality Beatles and rock 'n roll memorabilia.
TracksAuction.com is the newly founded division of Tracks Ltd. Established in 1989, Tracks has developed into one of the world's leading dealers of rare Beatles and pop memorabilia. Its staff of specialists have over 20 years of experience of appraising, authenticating, evaluating and selling Beatles and rock 'n roll collectables at the highest level. In addition to The Beatles their expertise also covers that of memorabilia relating to all of the major artists and bands from the last several decades – the Rolling Stones, Jimi Hendrix, Led Zeppelin, The Who, Pink Floyd, Bob Marley, the Sex Pistols, The Clash, Madonna and Michael Jackson and others.
Online bidding starts on the 22nd November 2013 and the auction concludes with a live online sale beginning at 5pm (GMT) on Sunday the 1st December.
If you would like to find out more about any other items in our auction or if you require any additional images of any item please contact Jason Cornthwaite ( info(at)tracksauction(dot)com ) on 0044 (0)1257 269726 or visit our website http://www.tracksauction.com.