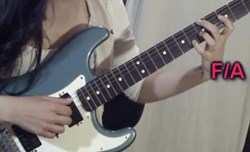 (PRWEB) November 11, 2013
In this theory guitar lesson, now available on YouTube.com, Alejandra Mesliuk teaches how to play major and minor Triads in Root Position and with Inversions.
A Triad is a three note chord. A Major Triad consists of the Root Note, the note that a chord derives its name from, the Third (Major Third) and Fifth (Perfect Fifth) notes of the Major Scale. A Minor Triad consists of Root Note, Flat Third (Minor Third), and Fifth (Perfect Fifth). When a Triad is composed in Root Position the notes are arranged in the order of 1-3-5 for Major and 1-flat 3-5 for Minor. Triads can be inverted so that the Root Note is not the lowest note. The First Inversion is where the Root Note is moved to the highest pitch making the order 3-5-1 for a Major Triad and flat 3-5-1 for a Minor Triad. The Second Inversion is where the Root Note and Third Note are both moved about the Fifth making the order 5-1-3 for a Major Triad and 5-1-flat 3 for a Minor Triad. There are also Triad formulas for Augmented and Diminished as well.
Mesliuk demonstrates numerous Triad shapes in both Major and Minor and with Inversions. She plays them starting with the 6th string and then with the 5th string and finally the 4th string. Every guitarist will benefit from knowing to play and use Triads effectively and can really spice up your playing. Guitar TAB's are available for this lesson at GuitarControl.com.
Alejandra Mesliuk
Alejandra Mesliuk is from Buenos Aires Argentina. She studied jazz guitar harmony and under the method in Temperley Berklee School of Music by Ariel Ferreyrola. She has been an area teacher and clinician for the last 10 years in electric guitar, classical, and musical language. She is currently working on a solo album.
About GuitarControl.com
GuitarControl.com is the leader in modern guitar instruction. It's packed with recourses including articles, video lessons, and the best videos in the business for the beginner to the advanced guitar student taught by the best instructors out there. Weather you are into the blues, rock, jazz, metal, folk, or anything in between, they have you covered.