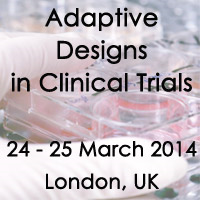 London (PRWEB UK) 11 November 2013
Due to major changes that have been applied to clinical trials over recent years by both biotech and pharmaceutical companies, the importance of adaptive designs to clinical trials has become more apparent to the industry.
The time and cost reductions in the early phase of clinical trials enables less recruitment of patients and improves the general accuracy in clinics. Successful implementation of adaptive designs into a trial however requires unmatched coordination between clinicians, trial managers, statisticians and those involved in the regulation process.
On this topic, SMi is proud to present its 8th annual Adaptive Designs in Clinical Trials conference, held in central London on the 24 & 25 March 2014.
Hear through case studies how all sizes of pharmaceutical companies have successfully implemented trials incorporating adaptive designs. This conference is the only in Europe that focuses on adaptive designs specifically, providing delegates with updates on recent developments in enrichment design, dose response modelling, computer simulation, internal and external regulatory expectations and new data on evaluating adaptive dose ranging studies.
Adaptive Designs in Clinical Trials 2014 aims to show you how you can quickly and accurately implement an adaptive design clinical trial for your drug development - from initial processes in managing trials to choosing the right time to implement change.
WHY ATTEND THIS EVENT:

Learn from Michael Krams how to create an environment where adaptive designs can become the norm
The only conference in Europe to focus specifically on adaptive designs in clinical trials
Benefit from the first-hand experiences of speakers whose organisations have recently made breakthroughs in adaptive designs
Hear from Vladimir Anisimov the very latest on predicative analytical techniques for increasing efficiency of drug development
Discover at our post conference workshop how FACT software that supports the everincreasing complexity of adaptive clinicaltrials works, hosted by Tom Parke of Tessella
KEY SPEAKERS INCLUDE:

Michael Krams, MD, Global Head, Quantitative Sciences, Janssen Pharmaceutical Companies of Johnson & Johnson
Vladimir Anisimov, Senior Strategic Biostatistics Director, Quintiles
Roger Lewis, MD, PhD, Senior Medical Scientist, Berry Consultants
Loïc Darchy, Head of Statistical Methodology Group, Sanofi R&D
Lilla Di Scala, Senior Statistical Scientist, Roche
Pantelis Vlachos, Principle Biostatistician, Strategic Consulting, Cytel Corporation
Sue Todd, Professor of Medical Statistics, University of Reading
Frank Fleisher, Principal Statistician, Boehringer-Ingelheim
Christopher Jennison, Professor of Statistics, University of Bath
Graeme Archer, Statistics Director, GlaxoSmithKline
PLUS TWO INTERACTIVE POST-CONFERENCE WORKSHOPS:
Workshop A: Simulating Clinical Trials using the FACTS software package: Why simulate clinical trials, how to simulate clinical trials and the difference it will make. Wednesday 26th March 2014 | Holiday Inn Regents Park, London, UK |8.30am – 1.00pm. Workshop Leader: Tom Parke, Head of Clinical Trial, Solutions, Tessella Ltd
Workshop B: Identifying and Exploiting Opportunities for Efficiency in Clinical Trial Design: An Interactive Adaptive Design Workshop. Wednesday 26th March 2014 | Holiday Inn Regents Park, London, UK | 1.00pm - 5.00pm. Workshop Leader: Professor Roger J. Lewis, MD, PhD,Senior Medical Scientist, Berry Consultants
For more information on the programme and speakers, please visit the website.
Register by 29th November and save £300. Register online or contact Fateja Begum on +44 (0) 20 7827 6184 or email fbegum(at)smi-online(dot)co(dot)uk.