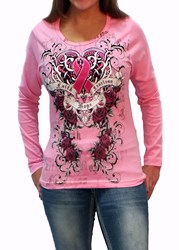 Although October is over, the fight for a cure and public awareness is not.
Dayton, Ohio (PRWEB) November 12, 2013
The American Made wholesale company, Liberty Wear, announces its uninterrupted push on keeping the public aware and the attention on finding a cure. "Although October is over, the fight for a cure and public awareness is not," states Matteson Kelly, Marketing Director. Liberty Wear plans on keeping an apparel line dedicated to cancer awareness year round. Liberty Wear released a new long sleeve Faith & Hope top to continue its growth on their Faith & Hope Line, from which a portion of all tops gets donated to Breast Cancer Awareness.
Liberty Wear has reached about $4,000 in total donation money and continues their message of persistence. "Cancer stops for no one, and until there is a cure why should we stop trying to do what we can to help." Says, Kevin Kemper, Customer Relations.
Liberty Wear donates to multiple organizations including the one a close friend and client was apart of before she lost her life.
Liberty Wear makes it clear that their push on cancer awareness is real and will not stop until there is an end in sight for everyone struggling with cancer. Liberty Wear urges everyone to take a stand and help by joining the fight.
About 1,660,290 new cancer cases are expected to be diagnosed in 2013, and in 2013 about 580,350 Americans are projected to die of cancer, almost 1,600 people a day. Cancer remains the second most common cause of death in the US, accounting for nearly 1 of every 4 deaths. According to the American Cancer Society.