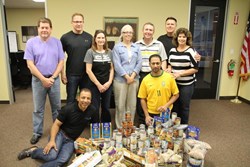 Hüper Optik believes strongly in being involved in our communities, whether that be our Dealer Network or the communities at home where we work and live.
Houston, TX (PRWEB) November 13, 2013
Hüper Optik recently hosted Distributor Partners in Energy Efficiency at its distributor meeting.
"We bring our partners into the Houston office for two days of sharing of ideas in order to make sure our network is the best it can be to support our Dealers in their growth and expansion," said Faisal Nazir, CEO of Hüper Optik USA.
As a part of ongoing efforts to discuss and live the Core Values of Hüper Optik , the group spent Saturday working together on a Team Building exercise. Hüper Optik believes strongly in being involved in the community, whether that be the Dealer Network or the communities at home.
The exercise was to identify and explore what the value proposition of the Hüper Optik USA is to its Distributors and Dealers across the country. Huper Optik believes the most important step we can take is to understand the product we supply and the support we provide to our dealers has a great impact on our Partners and their families. Hüper Optik supports the idea of Service in Action. We put this into place on this Team Building activity by gathering food for the Houston Foodbank.
"Team Building activities help us explore and better define the value proposition of Hüper Optik and help us provide a significant food donation to the local Houston Foodbank. We believe this closely aligns with the guiding principles of Hüper Optik and what our Partners believe throughout of Network," said Nazir.
This donation was provided in the name of Mario Cuoso, a Hüper Optik Team member that recently passed. "Mario was an integral Team member to the Hüper Optik Family. He represented the best in his kind heart and his friendliness. He was a true light in everyone's day that he encountered," said Faisal Nazir.
Huper Optik USA is a market leader in German engineered, multi-layers nano-ceramic and traditional solar control film technology, providing energy savings and security solutions for commercial, residential, automotive and marine industries through a strategic network of authorized dealers in the United States, Mexico, South America and Canada. The company, which celebrated its 10 year anniversary in 2010, is known for its innovations in ceramics, including its patented dual layer, nano-ceramics, neutral toned products, with low interior reflectivity.