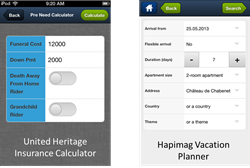 'With the latest release of CM WebClient 1.8.2, CM First believes that companies can now achieve mobile goals with ease,' said Christoph Heinrich, CM First CEO.
Austin, TX (PRWEB) November 12, 2013
Going to mobile sounds daunting. So many devices, operating systems and capabilities required. New languages, new techniques – many companies are stuck in planning mode, wondering how to get a first mobile app created. CM First Group has made it a priority to provide technology for moving existing business applications to mobile devices, and customers are taking advantage of it.
"CM First knows how intimidating mobile can be to a company just beginning the journey. CM First developers felt that it just shouldn't be that hard, even with the complexity inherent in the diverse platforms involved. After creating a solution, customers began to invest in the initiative. With the latest release of CM WebClient 1.8.2, CM First believes that companies can now achieve mobile goals with ease," said Christoph Heinrich, CM First CEO.
"The latest release of CM WebClient provides support for even more device families, including Windows Mobile 8 and Blackberry," notes John Rhodes, CTO. "Developers can now release their apps from a unified code base to all popular mobile tablet and phone platforms. The same unified code base deploys readily to Windows 8.0/8.1 and Mac desktops, so the user experience is the same, no matter what device a customer selects."
The latest release of CM WebClient Mobile also includes new themes, icon menus, audio and video, advanced geo, and access to device email and address books. Other new feature included for enterprise app development include camera / file upload, signature capture, local storage, and embedded HTML pages and forms. Support for Adobe Cordova (PhoneGap) is provided to facilitate publishing WebClient apps to the various app stores for native app deployment to customer or employees. For an example of an app delivered using Cordova, see the 2013 CA 2E / CA Plex Conference Helper on the Google Play Store. https://play.google.com/store/apps/details?id=com.cmfirstgroup.plex2econhelper
Of the successes achieved by CM First customers, two stood out as showing the flexibility and capability of the CM WebClient solution. The first, United Heritage Life Insurance Company, needed a way to support field agents with mobile applications. The challenges were many: no budget for additional staff, no mobile experts, and a need to get to mobile quickly. At the same time, United Heritage staff hoped for a solution that required minimal recoding and minimized the need to understand the complexity of supporting the different operating systems and devices.
"We wanted control over the look and feel of the mobile pages. Most tools didn't offer that. CM WebClient with Sencha Touch allowed us to do all the development with my in-house, CA Plex development team. We didn't need to hire additional mobile UI or device development experts," said Roger Griffith, Manager, Life Software Development.
The result? United Heritage now combines two key applications into one mobile interface, empowering insurance agents to quickly define custom policies for customers in the field. "Other parts of United Heritage saw the success of this effort and are now beginning plans to mobile-enable other critical applications," Griffith noted.
To learn more about how United Heritage achieved these results, visit: http://www.cmfirstgroup.com/wp-content/uploads/2013/08/United-Heritage-Success-Story-final.pdf.
Hapimag, a vacation planning company, already had a Web presence, but the traveling public demanded mobile access to book travel adventures. Working with CM First, Hapimag implemented an integrated app which allows clients to view properties, input preferred travel dates and select and confirm the perfect vacation.
"Being able to use CA Plex/CM WebClient with Sencha Touch makes it easier and faster to generate mobile applications. If we had to build it from scratch, we would have to learn all the underlying technology. This solution cuts out a lot of the learning curve. We're quite happy with the software, the support and the people," noted Richard la Croix, Software Developer.
To learn more about Hapimag's success, visit: http://www.cmfirstgroup.com/wp-content/uploads/2013/10/Hapimag-Customer-Success-Story.pdf.
"Both United Heritage and Hapimag achieved the results needed, quickly and easily with the latest release of WebClient," said John Rhodes, CTO. "Many other clients are following in these footsteps. Mobile doesn't have to be that hard. Talk to CM First to learn how to achieve mobile goals."
To learn more about CM First's mobile initiative, visit the web site at: http://www.cmfirstgroup.com/initiatives/mobile-application-enablement/.