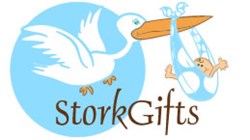 St. Louis, Missouri (PRWEB) November 15, 2013
In keeping up with market trends, StorkGifts is offering a "Gift of the Month Club." This offers customers the opportunity to send either the same child, or a different child, a special gift each month at a significant savings.
The StorkGifts "Gift of the Month Club" is perfect for those who want to be remembered each and every month, such as out of town grandparents, aunts, uncles, siblings, etc. The club membership is a great way for those who need to purchase a gift for a new baby or a birthday on a regular basis. There is no need for the stress of frantic, last minute shopping for the perfect children's or baby gifts with the club membership. The StorkGifts "Gift of the Month Club" memberships are available for purchase in both three month and six month memberships.
Memberships are only $30 per month and with the six-month membership, the member receives all of the gifts listed below. With the three-month membership, three months may be chosen from the following pre-selected gifts options:
January and February: Themed Puzzle
March and April: Baseball or Musical Heart Jewelry Box
May and June: Bat Coat Rack or Princess Mirror
July and August: Book Set
September and October: Bookends
November and December: Classic Style Room Sign
Every month, the StorkGifts "Gift of the Month Club" member has selected, the member will receive an email with gift customization and personalization option form. With the response to the email with the personalized gift options selected, shipping information and a gift message, StorkGifts can start working on the loved one's unique personalized gifts. All gift items are valued at $34.99 or more.
In addition to the new StorkGifts "Gift of the Month Club," a line of traditional baby gifts including personalized piggy banks, personalized step stools, and name puzzles are available. StorkGifts now offers a wide variety of custom made and personalized children's items. Added to the existing repertoire are personalized frames, personalized hand knit sweaters and scarves, personalized plates, and personalized ornaments for kids. Several styles are available within each new category. As always, each item is custom made and personalized with the child's name. Shipping is always free.
About StorkGifts
St. Louis, Missouri resident Melissa Chelist owns and runs StorkGifts, an upscale online boutique specializing in quality custom-made personalized gifts for babies and children. Melissa and now ex-husband started the company in January of 2003 when internet shopping was just becoming widespread. In 2005 when Chelist's youngest child went to pre-school, Chelist took over managing the company and has done so ever since. StorkGifts carries more than 75 different types of personalized children's gifts and other items, all of which are custom-made with the customer's choice of color, design, and personalization. Known for its high-quality products, StorkGifts offers many made-in-the-USA products and prides itself on professional, top-notch customer service. For more information, please visit http://www.storkgifts.com.