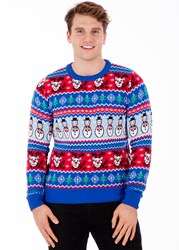 (PRWEB UK) 13 November 2013
It's that time of the year again and we're pleased to announce the highly anticipated launch of British Christmas Jumpers. This extensive range of British made colourful and creative knitwear is a great way to celebrate the 2013 festive season in style.
The new 2013 collection offers a range for men and women, featuring intricate designs ranging from jacquard to tartan, to Christmas-y inspired characters and landscapes - authentic patterns give these jumpers a unique heritage edge.
Over the last 27 years, British Christmas Jumpers have been knitting and sewing an array of exciting, high quality designs, right here in the UK. With a longstanding history of making knitwear dating back to the 1900's; their factory continues to be a buzzing hub for traditional design and creation.
British Christmas Jumpers are a celebration of authentic British design partnered with quality craftsmanship, allowing the distribution of these novelty products to a global audience. Their team work tirelessly to support the British textile heritage and manufacturing industries through the creation of truly unique garments.
The premium quality distinguishes this collection from the crowd, with every stitch demonstrating the precision and skill of hardworking British craftspeople. Pride and commitment to design is evident through this knitwear, as well as a dedication to all things whimsical!
With quirky and colourful designs for all the family, the 2013 Christmas jumper collection is better than ever before. So why not celebrate the winter festivities in style this year, and do your bit to support British manufacturing.
___
END