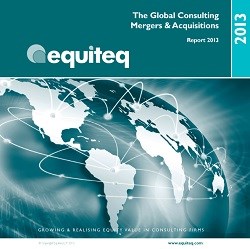 Equiteq and Corbett Keeling helped us build a compelling value case for an investment by Baird
London (PRWEB UK) 12 November 2013
Equiteq is a consulting sector merger and acquisition specialist, providing both growth advisory and M&A transaction services to the global consulting industry. Corbett Keeling is a leading UK Corporate Finance boutique with 20 years transaction experience and a member of the world-wide network of M&A advisors, Globalscope.
Nick Kent, former CEO and now vice-Chairman of Alpha said:
"We were very pleased with the support we received from Equiteq and Corbett Keeling. They were very knowledgeable about our industry, helped us build a compelling value case for an investment by Baird, and managed our process very effectively and diligently to achieve an excellent result for all."
This deal is a good example of the resurgence of Private Equity (PE) interest in consulting firms with a strong growth history. Alpha attracted 8 offers from the PE community and the shareholders chose Baird because of the flexibility of the deal structure, the financial resources they could make available and the support that Baird offered the management team in taking the company to the next stage of growth.
Chris Harper, Managing Director at Baird said:
"I will join the board, but Alpha will remain an independent company and continue its operations as a leading consulting firm to the asset management industry in Europe. Our investment will not change the company's culture, or high quality focus on its clients, however it will enable it to broaden its services and expand into new markets like the USA. Many thanks to Alpha's advisors on this transaction, Equiteq and Corbett Keeling, the whole process was as painless as it could be, which is a great testament to the quality of their advice and input."
For more information and media enquiries, contact Tony Rice of Equiteq on +44 203 651 0607 or tony(dot)rice(at)equiteq(dot)com, Visit http://www.equiteq.com/report to download the latest Global Consulting M&A Report.
About Equiteq and Corbett Keeling
Equiteq is a consulting sector M&A specialist. We work with consulting firm shareholders, helping them to achieve their business objectives and exit strategies. Our services are designed to deliver great returns for our clients, by accelerating revenue, profit and equity value growth, and ultimately realizing that value in a trade sale or other type of liquidity event. If any of these objectives are on your agenda, then please contact us or visit http://www.equiteq.com for more information.
Corbett Keeling is a corporate finance advisory firm focused on advising management teams on buy-outs and owners on sales of, or other exits from, businesses. We are a member of Globalscope Partners, the international network of M&A advisors, serving the international transaction requirements of our clients.
Equiteq and Corbett Keeling partner on the sale of UK based consulting sector businesses.