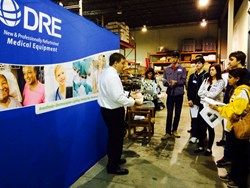 Louisville, KY (PRWEB) November 14, 2013
DRE, Inc. — a premier medical and surgical equipment provider — played host to Atherton High School students recently as part of the company's participation in Amazing Global Marketplace. AGM is an educational program and competition that partners Louisville companies with teams from local high schools to simulate international business practices.
Greater Louisville International Professionals, the Asia Institute - Crane House and Los Monitos Language Center facilitate the program, which is currently in its third year.
Atherton's recent visit to DRE headquarters was only one of the events that will take place as a part of the project. Earlier in October, all participating business and school groups met at Bellarmine University for a speed-dating like selection process to kick things off.
Sonia, an 18-year-old Atherton High School Senior, was one of the five students who initially chose to work with DRE. She said the company's enthusiasm and knowledge was a big factor in her team's decision.
"We saw that they were really excited to work with us," Sonia said. "And we could learn a lot."
Sonia said she hopes to one day pursue a career in international business, more particularly something in the marketing field. She is looking forward to working with DRE on the AGM project so she can learn more about different cultures and ways each one communicates.
Chris Padgett, the director of sales at DRE and the mentor for Atherton's AGM team, said he enjoyed meeting with the students and educating them about his company's business practices.
"They're a great group of young people," Padgett said. "They asked a lot of good questions and were interested in learning everything they could about what DRE does. I'm really looking forward to working with them from now until April."
During their visit on Wednesday, Nov. 6, the students were led through tours of both DRE's main headquarters and the warehouse. They gathered information to complete various assignments set by AGM.
The program culminates at Bellarmine in the spring when all of the teams present what they've learned. The team with the most cumulative points from each assignment wins.
DRE and Atherton will compete against eight other teams of high school students partnered with Louisville businesses. Participating high schools include Assumption, Ballard, Doss, Eastern, duPont Manual, Seneca and Southern High School. The other competing local companies are Flavorman, GlowTouch Technologies, KFC, NaugaNeedles, Papa John's, WaterStep, Zeon and Zoeller Pump Company.
About DRE, Inc.
Founded in 1984, DRE, Inc. is a premier medical and surgical equipment supplier that provides a combination of new and professionally refurbished or used medical equipment to industry professionals around the globe. DRE offers value to doctors by providing the features and reliability they need while still fitting within their budget. DRE, Inc. is headquartered in Louisville, Kentucky.