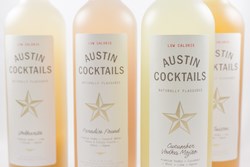 Austin Cocktails feature artisanal blends that deliver the experience of crafted cocktails and the freshness of a farmer's market within a bottle, while eliminating all refined sugars and non-natural substitutes.
Austin, Texas (PRWEB) November 12, 2013
This fall, Austin Cocktails, an ultra premium, ready-to-serve, low calorie cocktail line, comes to Austin and fills a void in the cocktail market by bringing craftsmanship and high-quality ingredients to the ready-to-serve alcohol category. The company enters the market at a time when beer and wine sales across the industry continue to plateau or decline amidst rapid growth in spirits and mixed cocktails. Austin Cocktails reflect a broadening demand for natural flavors, no refined sugars, and low calorie drinks that provide an alternative to low calorie, premium beer or wine.
The family-owned line of artisanal, low-calorie beverages blends six-times distilled, premium vodka, fresh herbs, all natural fruit juices and organic agave nectar into innovative and balanced drinks that are light, intricate and made up of ingredients sourced from all over the world. Four varieties of meticulously developed Austin Cocktails – the Cucumber Vodka Mojito, Paradise Found, Tea Twister and Vodkarita – can be found in Austin-area stores and other select locations in Texas. The beverage line also was released in San Francisco and the Bay Area in summer 2013.
Austin Cocktails founders, sisters and Texas-natives, Jill Burns and Kelly Gasink, spent two years developing the cocktail line, leveraging their knowledge of where big drink companies cut corners and small businesses innovate. While most beverage companies develop products in one to three months and use one or two ingredient suppliers, Burns and Gasink tasted hundreds of flavors and ingredients from all over the world to find the ideal combination of natural ingredients and fresh flavors for the Austin Cocktails line. Austin Cocktails feature artisanal blends that deliver the experience of crafted cocktails and the freshness of a farmer's market within a bottle while eliminating all refined sugars and non-natural substitutes from the recipes.
"The ingredients that resonated with us the most were the ones that were natural and tasted as if they came straight out of the garden or fresh off the vine and delivered all facets of the ingredient," Burns said. "Finding natural cucumber flavors that incorporate the earthiness of the rind, not just the juicy inside or mint leaves that retain their leafy green notes, but not stripped of their beautiful essential oils. This type of discrimination and craftsmanship sets us apart from others in the ready-to-serve genre."
At $14.99 for a wine-sized bottle that includes over six cocktails, the ready-to-serve craft cocktail line has made light, artisanal cocktails a reality for those looking for a quick, delicious and easy alternative to the light beer or wine often served at home or at dinner parties. Austin Cocktails have been the drink of choice at events ranging from the high-profile San Francisco Museum of Modern Art Dinner at the Four Seasons, Hamptons Designer Showcase, and Napa Valley Film Festival, to tailgates, concerts and other hip events in Austin and West Texas. "The people who are drinking these cocktails would not traditionally buy ready-to-serve cocktails, and it shows that we are offering something in the category that hasn't been seen until now," said Gasink. "With innovations in flavors and sugars, we believe the time is right to reinvigorate the RTS category."
Since entering the market, Austin Cocktails has received the support of a number of high-profile beverage experts. Industry great and 20-year beverage veteran Bob Lachky, former Chief Creative Officer and Executive Vice President of Global Industry of Anheuser-Busch, joined the Austin Cocktails advisory board. Bump Williams, one of the beer, wine and spirits industry's most respected trend experts and legendary beverage alcohol authority, also is a member of the Austin Cocktails advisory board.
Though just coming to market, Austin Cocktails already has been well received at industry events. At the Beverly Hills World Spirits Competition in July, Austin Cocktails won two gold and two bronze awards for taste, and a bronze medal for packaging. In Texas, Austin Cocktails is represented by Republic National Distributing Company.
###
ABOUT AUSTIN COCKTAILS
Austin Cocktails is a collection of artisanal, low-calorie ready-to-serve cocktails made with six-times distilled premium vodka and fine, natural ingredients. The company brings craftsmanship, creativity and quality to the ready-to-serve cocktail category. Four varieties of Austin Cocktails in 750 mL (wine-sized) bottles will be available at select stores in Austin, Texas ($14.99) and San Francisco, California ($15.99). Each bottle contains over six cocktails, and each cocktail is less than 100 calories.
ABOUT JILL BURNS AND KELLY GASINK:
Sisters Jill Peterson Burns and Kelly Gasink come to Austin Cocktails with previous beverage experience, business acumen and a highly successful entrepreneurial background, including the creation of four start-up businesses between them, five including Austin Cocktails. After Burns worked with a start-up beverage company in California, the two entrepreneurs decided there was a need for a high-quality, low-calorie ready-to-serve cocktail, so they created Austin Cocktails to fill that void. The sisters combine their different skill sets and professional backgrounds in Austin Cocktails to create a family business that is equal parts creativity, strategy and execution.
LINKS
http://www.austincocktails.com
facebook.com/austincocktails
@austincocktails (Twitter, Instagram)