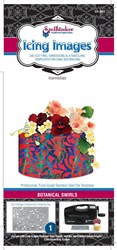 The Sweet Accents system has been so well-received and the requests for new designs keeps flowing in. - Deborah Couglin, Icing Images owner.
Winchester, VA (PRWEB) November 12, 2013
November 12th, Icing Images expanded their Sweet Accents die cutter inventory today to accommodate frequently requested designs from their retail bakery and home cake decorating customers. The new line up, just in time for the holiday shopping season, includes Beyond the Lattice, Geo Designs, Uppercase Letters, Botanical Swirls, Trellis Vines, Corner Vines, Dueling Medallions, Designer Borders and Quilted Lattice and Confetti.
Icing Images received many requests for letter designs by cake decorators in order to more easily create cake messages with their Premium Icing Sheets™. The Designer Borders set includes 6 different decorative border patterns for use along the top and bottom edges of a cake. Many different decorative vines were added due to their popularity in cake design.
"The Sweet Accents system has been so well-received and the requests for new designs keeps flowing in. We're delighted to provide an easy-to-use system for our customers and to continue expanding our inventory to accommodate customer requests." – Deborah Coughlin, Icing Images owner.
The Sweet Accents system, introduced earlier this year, is the first and only food-safe die cutting, embossing, and stenciling system, used by bakers and cake decorators to create designs for cakes, cupcakes, cookies, and other desserts with icing sheets. The portable system requires very little skill to operate nor does it need electricity or batteries. Icing Images also carries the Silhouette Cameo Cutter, an electronic cutting machine, which uses the computer to design and cut letters and patterns, but requires more skill to operate. In addition, it can work in conjunction with an edible printer to print a design then through the use of the Cameo, it can cut the pattern that was printed.
Icing Images' previous die cutter inventory offered designs to create flowers, leaves, borders, and other decorative elements. Cake decorators have reported experiencing clean, crisp edges in their designs, something that is difficult to achieve with other types of cutting tools. Icing Images is currently working on the next batch of food safe dies which will feature custom designs selected by Peggy Tucker, Certified Master Sugar Artist.
Cake decorators have also used the Sweet Accents system to combine icing sheet designs with gum paste, Isomalt, fondant and chocolate applied to cakes, used as decorative elements and to create cake toppers. By using the Sweet Accents, decorators can choose from a wide range of Premium Icing Sheets™ such as luster icing sheets, pre-colored icing sheets and iDesigns™ to add dimension, depth, and color.
Icing Images has been a leading distributor of edible pictures and edible paper art supplies for over a decade. Edible picture supplies such as edible image printers, edible ink, icing sheets, and electronic and die cutters are used by cake and confection decorators throughout the world.