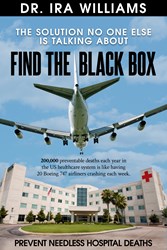 Greenville, SC (PRWEB) November 13, 2013
"Their care remained financed through an uncoordinated patchwork of local, state and federal agencies with no single accountable overseer." That brief, accurate description of ever aspect of the current healthcare system by Torrey depicts a non-system devoid of an organizational structure necessary for the existence of overseer accountability.
Both IOM To Err Is Human in 2000 (http://is.gd/2MSBhR) and Dr. Elizabeth McGlynn, Rand Corp. 2004 (http://is.gd/eqpqXm) recognized the current healthcare system to actually be, in their words, a non-system. Yet their passive recognition of such a major organizational flaw has continued to be ignored.
Experts, in their efforts to improve the quality of healthcare, have been trying to change an enormous system none of them can first describe. A detail description of that non-system would reveal the complete absence of an organizational structure, and therefore devoid of any means to establish points of delegated authority necessary for meaningful accountability to exist.
Dr. Ira Williams' latest book Find The Black Box (http://is.gd/eqpqXm) describes in detail what has always been missing throughout every aspect of the healthcare delivery system, and why all of the efforts of the past several decades to "improve the quality of care" have been so dramatically ineffective. Far more patients are estimated to be needlessly dying in hospitals due to medical errors now than over twenty years ago, and there are clearly evident reasons why. But those reasons continue to go unrecognized, and patients continue to needlessly die.
Torrey relates in American Psychosis the sad story of President Kennedy's sister Rosemary and the tragic results of her father's decision to allow her to undergo a frontal lobotomy that left her helpless to care for herself. Rosemary Kennedy is cited in Williams' book because he was a member of the oral surgery practice in Madison, WI that provided outpatient general anesthesia necessary for her to receive periodic dental care for many years. Williams also provided surgical correction of a double-jaw deformity for another resident of St. Coletta School for Exceptional Children located in Jefferson, WI where Rosemary was cared for until her death.
Books that describe some of the many problems, but offer no real solutions similar to Torrey's will continue to be written until the fundamental defects in the healthcare delivery system receive as much attention as the efforts to pay for healthcare after the fact continues to receive. Williams offers a three-phase process in his book that can describe the current healthcare delivery system in detail, and ultimately lead to a plan for the complete reorganization of that system.