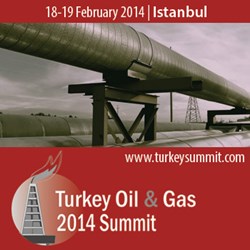 It's an IRN Summit!
London (PRWEB UK) 14 November 2013
IRN is delighted to announce that the Turkey Oil & Gas 2014 Summit will take place on 18th-19th February 2014 in Istanbul, as a senior level platform exploring every aspect of the developments in the country.
Expert speakers will examine the history of the exploration and production, legislation, downstream and upstream activities and future ambitions. Discussions will address investments and developments in the region and provide the opportunity for networking between the Government, international and local oil and gas companies, service providers, and key decision makers of the region.
Turkey has vast potential as energy centre and is forming an energy hub from central Europe and Middle East back to Europe. Turkey has been a major transit point for seaborne-traded oil and is becoming more important for pipeline-traded oil and natural gas. The country will potentially be the answer to Europe's energy security concerns.
As a country, Turkey has everything needed to attract foreign and local investments: easy access to markets, new petroleum laws, favourable financial terms, an excellent geopolitical position and great infrastructure. During recent years, the conventional and unconventional activities have been increased as it is believed that there is huge potential for shale gas, and Turkey has turned to hydraulic fracturing to extract gas from shale deposits in the country.
The Turkey Oil & Gas 2014 Summit will feature distinguished speakers from the Government, NOCs, the oil and gas companies involved, geologists, economists, key service providers, and NGOs. Furthermore, the speaker faculty will illustrate the current new ventures, economic, operational, regulatory and investment opportunities in the region, and give a 360 degree view of the current status, achievements and ways for companies to get involved in the hydrocarbons of the region.
More information can be found on the website http://www.turkeysummit.com.