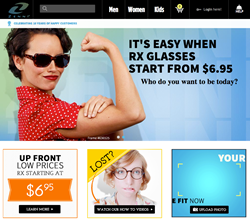 We answer close to a thousand calls a day, so we get a lot of customer feedback... Their feedback was paramount in our designs
Novato, CA (PRWEB) November 18, 2013
Zenni Optical, the world's leading online optical retailer providing the most inexpensive, high-quality eyeglasses available anywhere, has revamped its website with a stylish new look, a streamlined ordering process, and customer-friendly how-to videos and screencasts that surpass anything offered by all other optical websites in usability and entertainment value.
Zenni Optical CEO Tibor Laczay explained that the new features on the retooled website, launched today in honor of Zenni's 10th anniversary, were largely inspired by customer feedback – which he said drives most of the company's innovations.
"We answer close to a thousand calls a day, so we get a lot of customer feedback," Laczay acknowledged. "We take full advantage of that to better understand our customers' needs. Their feedback was paramount in our designs and our thinking as we modified the website."
In addition to a vibrant, color-rich redesign that simplifies the ordering process, the restyled website's most noteworthy new features are the how-to videos and screencasts. The how-to videos were shot by a professional videographer and feature members of Zenni's customer support and shipping teams, with comedy touches that make them not only informative but fun to watch.
In the videos, Zenni Optical's American Board of Opticianry (ABO) certified opticians explain such crucial aspects of ordering eyeglasses online as measuring the distance between your pupils, choosing the right size frame to fit your face, selecting the right style frame to match your face shape, and frame adjustment and repair.
The screencasts are narrated by an ABO certified optician, who walks customers through the entire order process, from start to finish, which addresses a frequent customer request. While perusing this comprehensive overview, customers can make stops along the way to view individual screencasts that explain specific aspects of the website, such as Zenni's popular, patented "Frame Fit" tool, which enables customers to upload their picture to the website to virtually try on a frame, to see how it will look on their face before buying it.
These innovations to the website will certainly enhance the appeal of Zenni Optical, which has consistently impressed budget-conscious consumers – and major media outlets such as ABC News and The New York Times – with its unwavering commitment to quality and affordability, Laczay noted.
"We don't upsell our customers to a higher-end product – we down-sell them," he emphasized. "If a lower-priced product will do just as well, if not better, than a higher-priced product, we steer them toward the lower-priced product.
"The majority of eyeglass wearers in the United States can't afford the eyeglasses they are getting," Laczay added. "We'd like to get the American public aware that there is an alternative to those $150 to $500 glasses they're getting from the brick-and-mortar optometrist. With our eyeglasses, we're providing the customer economic freedom."
About Zenni:
Zenni Optical launched in 2003 in the San Francisco Bay Area - a natural fit in the home of forward-thinking, tech-savvy companies. The mission was clear: give people glasses they can actually afford but still make them look like a million bucks. It started small, a little company with big ideas, but it quickly grew into a phenomenon. Fashionistas, moms on-the-go, discerning customers; everyone found that they could get the selection they deserved at prices they could afford with Zenni Optical.