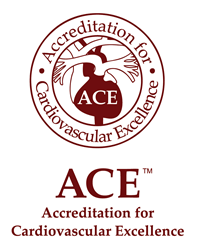 'ACE accreditation is the pinnacle of cardiac cath lab quality.' - Peter L. Duffy, MD
Washington, DC (PRWEB) November 12, 2013
The Accreditation for Cardiovascular Excellence (ACE) received acclaim during the Transcatheter Cardiovascular Therapeutics (TCT) conference, October 27 – November 1, 2013 in San Francisco. Presenting on the importance of using and documenting Appropriate Use Criteria (AUC) to control costs and improve quality in the cardiac cath lab (CCL), Peter L. Duffy, M.D., FACC, FACP, FAHA, FSCAI, noted that "ACE accreditation is the pinnacle of CCL quality."
ACE, the only organization to accredit the CCL, and a provider of Expert, External Evaluation (E3) by clinical cardiology professionals, emphasizes the utilization of AUC to achieve quality patient care. Accurately documenting the factors that support the determination of appropriate use is essential to quality patient care and moderating risk for all stakeholders. "Cath labs can benefit from ACE services through the development of an integrated quality program and a thorough and in-depth review of documentation," said Mary Heisler, RN, BA, Executive Director, Accreditation for Cardiovascular Excellence. "The interventional cardiology community is beginning to understand the value of ACE services due to the reality of our results-oriented healthcare environment."
St. Mary's Medical Center, Duluth, MN, achieves distinction as the latest cardiac cath lab to accomplish accreditation prestige with ACE. A member of Essentia Health, St. Mary's Medical Center is northeastern Minnesota's largest hospital. The 380-bed hospital in downtown Duluth offers state-of-the-art care and specially trained staff in a wide variety of medical specialties.
Essentia Health, headquartered in Duluth, MN, is an integrated health system serving patients in Minnesota, Wisconsin, North Dakota and Idaho. Essentia Health is committed to quality transparency so that patients can make informed decisions about their health care. Essentia was accredited as an Accountable Care Organization by the National Committee for Quality Assurance. St. Mary's Medical Center is the first facility in the Essentia Health system to achieve accreditation with ACE.
About Accreditation for Cardiovascular Excellence
ACE, an independent organization sponsored by the Society for Cardiovascular Angiography and Interventions (SCAI) and the American College of Cardiology Foundation (ACCF), offers independent evaluation and monitoring of facilities that provide cardiovascular care. By reviewing facility and operator performance and comparing clinical decision-making to nationally accepted best practices, ACE peer review and accreditation services plays a critical role in continuous quality improvement programs. Learn more at http://www.cvexcel.org.