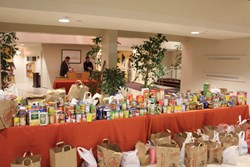 Loma Linda, Calif. (PRWEB) November 11, 2013
Loma Linda University Health will host the sixth annual ThankSharing, an evening of celebrating blessings and reaching out to the community through a food drive and inspirational concert.
ThankSharing is set for 7 p.m., Saturday, November 16, at Loma Linda University University Church, 11125 Campus Street, Loma Linda.
"ThankSharing has become a beloved tradition here at Loma Linda because it is an event that allows us to reflect as a community on all of God's blessings and His presence in our lives," said Ruthita Fike, CEO of Loma Linda University Medical Center, who will be welcoming participants to ThankSharing.
The event will feature inspirational music by an array of local musical groups and musicians, including Sarah Horn, who recently gained fame after her impromptu duet at a Hollywood Bowl concert was uploaded on YouTube. ThankSharing will also feature a special message by Michael Knecht, chief experience officer of LLUMC Murrieta.
The event is free and open to the public. Non-perishable food donations will be accepted at the door for donation to local food banks.
For more information about ThankSharing, please visit http://www.thanksharing.org or call 1-877-LLUMC-4U.
Photo Caption: Loma Linda University Health will host the sixth annual ThankSharing Concert and Food Drive on Saturday, Nov. 16. In this file photo from the 2012 event, non-perishable food donations collected from attendees were delivered to local food banks.
###
About Loma Linda University Health (LLUH)
Loma Linda University Health includes Loma Linda University's eight professional schools, Loma Linda University Medical Center's six hospitals and more than 900 faculty physicians located in the Inland Empire of Southern California. Established in 1905, LLUH is a global leader in education, research and clinical care. It offers over 100 academic programs and provides quality health care to 40,000 inpatients and 1.5 million outpatients each year. A Seventh-day Adventist organization, LLUH is a faith-based health system with a mission "to continue the teaching and healing ministry of Jesus Christ."