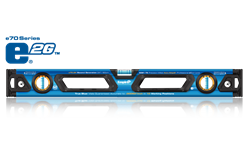 Mukwonago, WI (PRWEB) November 11, 2013
Empire Level, the leading designer and manufacturer of levels, squares, layout tools and caution tape in the United States, is excited to unveil the redesign of several of their iconic tools. Empire's "True Blue® Evolution" e2G™ full product line reveal will occur at the annual STAFDA (Specialty Tools & Fasteners Distributors Association) Convention and Trade Show, November 11-13 at Mandalay Bay in Las Vegas.
Among the second generation True Blue® tools being unveiled is the e70 series which includes features such as removable eshock pro™ end caps, AccuEdge2™ frame, one-piece hand grips and an eLock™ center vial system with exclusive two-part Empire e-poxy. Also being introduced is the magnetic version of the em71 e2G series, featuring powerful rare-earth magnets.
"Pros in the field told us they needed a level with serious holding power for work on metal studs, roofs, pipe, conduit, etc.," says Jenni Becker, fifth-generation president of Empire Level. "The neodymium rare-earth magnets used by Empire offer the strongest, most secure hold on the market."
In the new e70 and em71 lines, removable eshock pro™ end caps were added when finish carpenters and installation professionals—who need to strike clean lines into corners—asked for removable end caps. The AccuEdge2™ frame also creates an improved edge for striking precise lines while an improved one-piece rubber ergonomic handgrip provides all-day comfort and prevents fatigue. Finally, Empire's two-part epoxy offers significantly improved durability.
The second-generation e70 e2G™ is available in 24", 32", 48", 72" and 96" lengths. The second-generation em71 e2G™ is available in 24", 48", 78" and 96" lengths.
In addition to the True Blue® Evolution—and exclusive to STAFDA channel dealers—Empire is also launching an updated version of their popular em81.10 10" torpedo level to include three rare-earth magnets and a variable dual-pitch reading vial.
"The dual vari-pitch vial upgrade really elevates the em81.10, making it the pro's 'pro tool,'" notes Becker. "It makes this level relevant for any builder installing HVAC, masonry, decking, sidewalks, plumbing lines, flagstone patios… essentially any job where pitch measurements are required to prevent water from pooling."
Becker and Empire's international and domestic sales force will be attending the 2013 Specialty Tools and Fasteners Distributors Association (STAFDA) annual trade show November 11-13 where they will reveal the new products. Attendees are invited to stop by Empire's booth (#1133-1135) to examine the newly designed second generation of Empire's True Blue® level line and ask questions of Becker and her staff.
The e70 and emu71 series e2G™ levels will be officially released in December followed by a January 2014 release for the redesigned em81.10 e2G™ 10" torpedo level.
About Empire Level (empirelevel.com)
Empire Level is the home of TrueBlue® - the most accurate vials in the world. The blue fluid in Empire level vials is a unique symbol of superior accuracy and a trademark of Empire Level Mfg. Corp. For more than 90 years, Empire has been the leading designer and innovator of accurate and durable measuring tools for the professional and DIY user. Empire employs approximately 300 people at its facilities in Mukwonago, Wisconsin and sells its products in more than 50 countries worldwide. More information about Empire and its products can be found at: http://www.empirelevel.com.