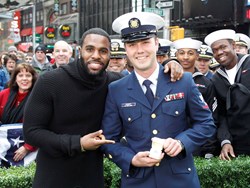 This experience has shown me just how much our troops and their families sacrifice each and every day for our country and how we can support the USO to continue to create these moments for them.- Jason Derulo
Arlington, VA (PRWEB) November 11, 2013
In celebration and in honor of Veterans Day, today the USO continued the momentum off their new national campaign; Every Moment Counts live on ABC's Good Morning America. The USO, with the help of American pop singer-songwriter Jason Derulo, gave Coast Guardsman of the Year – Petty Officer 3rd Class, Tactical Law Enforcement Team South (Opa Locka, FL) – Samuel Peikert a once in a lifetime proposal moment.
Under the guise of being honored by Good Morning America for his recent 2013 Coast Guardsman of the Year Award, Petty Officer Peikert and girlfriend Jacklene Fairchild were flown to New York City by the USO where they were able to enjoy a romantic weekend together capped off by their appearance on the morning show. With the help of the USO, Derulo and David's Bridal, the nation's leading bridal and special occasion authority, Peikert pulled off the surprise proposal live on air when he joined Derulo mid-performance during his hit single "Marry Me" in order to pop the question to a stunned Fairchild.
"I am so incredibly thankful to everyone involved for helping me create this amazing moment by asking Jacklene to marry me," said Peikert. "As we start this new chapter in our lives, I can't help but think how many others serving our country often miss out on these incredible milestones and everyday moments. Thanks to organizations like the USO, Jacklene, myself, all of us in uniforms and our families are able to continue to serve while making every moment count."
A single moment – like the one between Samuel and Jacklene – is all it takes to make a difference in the life of our troops and their families. To celebrate these occasions – big and small – the USO has launched Every Moment Counts, a national campaign asking Americans to come together to show their gratitude to our troops by committing to help create and provide real, everyday moments for our troops and their families. Individuals can visit USOmoments.org and "Take a Moment" to thank our troops and learn more about the challenges they and their families face, or "Give a Moment" by donating to the USO to help provide the resources that support our troops and their families at centers around the world.
"I was excited when the USO asked me to be a part of the kickoff of Every Moment Counts and help Sam pull-off this surprise," said Derulo. "This experience has shown me just how much our troops and their families sacrifice each and every day for our country and how we can support the USO to continue to create these moments for them. I hope everyone will check out USOmoments.org and get involved."
David's Bridal will also be outfitting the lucky new bride-to-be with the gown of her dreams to celebrate this memorable occasion. With one in every three brides walking down the aisle in a David's Bridal gown, the brand wanted to take a moment to give back to those who protect and serve our country by offering a 20 percent discount to all active service members and veterans on any bridal gown purchase from Veterans Day through Friday, November 15th. This discount is in collaboration with the USO Every Moment Counts campaign. With this discount, David's Bridal recognizes that weddings are one of life's most special moments for our troops and their families, and they should be celebrated as such. Available in US stores only, the discount applies to service members who are planning their weddings, as well as those who are marrying a service member.
"Many of the brides who shop for wedding gowns at our stores have connections to the military, so giving back to those who serve our country is very important to us," said David's Bridal Executive Vice President, Stores, Cynthia Harriss. "In celebration of Veterans Day, we want to show our support and appreciation for all of these brave men and women and their families."
For more information on Every Moment Counts, please visit USOmoments.org or join the conversation on Facebook or Twitter using #USOmoments. To obtain USO photos, video and logo please visit: uso.box.com/EMC.
About 2013 USO Coast Guardsman of the Year, Sam Peikert:
Gunner's Mate Third Class Peikert distinguished himself for actions performed while off-duty on the San Marcos River, in Texas. Peikert witnessed a father and son getting swept over a 20-foot dam. Peikert acted immediately and dove into the river, braved rapids and swam 50 yards to the injured pair. Peikert and his brother towed the father and son to dry land where Peikert administered first aid to their injuries.
About the USO
The USO (United Service Organizations) lifts the spirits of America's troops and their families millions of times each year at hundreds of places worldwide. We provide a touch of home through centers at airports and military bases, top quality entertainment and innovative programs and services. We also provide critical support to those who need us most, including forward-deployed troops and their families, wounded warriors and their families and the families of the fallen.
The USO is a private, non-profit organization, not a government agency. We rely on the generosity of our volunteers and donors. In addition to individual donors and other corporate sponsors, the USO is supported by Worldwide Strategic Partners: American Airlines, AT&T Inc., BAE Systems, The Boeing Company, Clear Channel Communications, The Coca-Cola Company, Lockheed Martin, Microsoft Corporation, Northrop Grumman Corporation, Procter & Gamble and TriWest Healthcare Alliance. We are also supported through the United Way and Combined Federal Campaign (CFC-11381). To join us in this patriotic mission and to learn more about the USO, please visit http://www.uso.org.
About David's Bridal:
With more than 60 years of experience dressing women of all ages for life's special occasions, David's Bridal understands the importance of providing brides-to-be with a vast selection of exquisitely crafted bridal gowns and bridal party dresses. Known for outstanding value, fashionable designs and the ease of one-stop shopping, nearly 60% of all brides in the US choose to shop at one of more than 300 David's Bridal stores across the country.
About Jason Derulo:
Jason Derulo has sold 26 million singles worldwide, has over 1 billion views on YouTube, and his new single "Marry Me" is available on the EP Tattoos on iTunes [http://smarturl.it/DeruloTattoos
EP cover: http://www.media.wmg-is.com/media/portal/media/cms/images/201309/tattoos-ep-cover-extralarge_1379519689172.jpg
Photo (credit Ben Watts): http://press.wbr.com/media/cms/images/201309/photo-credit-ben-watts-extralarge_1380306255088.jpg
###