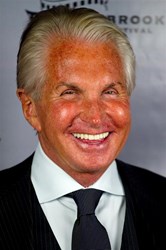 Neil Haley, The Total Tutor said," I was so inspired listening to the two of them talk about the importance of staying healthy and feeling great. GJ and George are poster children for people in their 50's through their 70's."
Pittsburgh, PA (PRWEB) November 13, 2013
Talk show host Neil Haley, The Total Tutor recently interviewed entrepreneur GJ Reynolds and celebrity legend George Hamilton on the Beachlifestyle Radio Show. They discussed ways that they are still in the best shape of their life.
Neil Haley, The Total Tutor said," I was so inspired listening to the two of them talk about the importance of staying healthy and feeling great. GJ and George are poster children for people in their 50's through their 70's."
George Hamilton at the age of 74 was able to share ways that he stays in shape. Everyday, he works out first thing in the morning doing Canadian Calisthenics. George is big advocate for eating healthy especially organic foods. He believes exercising and eating healthy helps you stay young and have the energy to conquer the world.
GJ Reynolds 52, believes what you put in your body is half the battle. By doing this, G is able to have energy during the day to conquer anything. In addition to eating healthy, GJ has worked out for 770 days straight. GJ is in the best shape of his life, and is in as good of shape as when he was in the military.
The recorded interview will be played in syndication this week. To listen to the podcast, please go to http://www.beachlifestyle.com.
####
For more information contact Neil Haley, director of Public Relations, via email nhaley(at)totaltutor(dot)org.