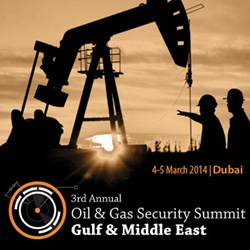 ...it's an IRN Summit!
(PRWEB UK) 13 November 2013
In the 21st century, the emerging threats and challenges to security of oil & gas infrastructure, employees and assets, require a fully comprehensive and holistic approach in order to be effective. The 3rd Annual Oil and Gas Security Summit – Gulf & Middle East will analyse the full spectrum of physical security concerns including case studies on recent terrorist attacks and presentations on theft prevention, pipeline sabotage, piracy and maritime security. The high importance of social media planning and the pressing need to consolidate cyber and physical security functions in order to reinforce your security planning will also be discussed at this high-level forum.
There will be case studies addressing the lessons learned from evacuations of non-essential staff by many of the IOC's operating in Egypt during the summer 2013 Coup d'état and on the threat Syria potentially poses to security of the oil and gas industry in the region. The specific security challenges facing LNG tankers transiting through the Arabian Peninsula and the pressing need to give much greater priority to business continuity management and disaster recovery planning will also be discussed.
The 2nd Oil & Gas Security Summit, held in London in June, was attended by representatives from TAQA, Baker Hughes, Bankers Petroleum Ltd., BG Tunisia, CEPSA, Exxon Mobil, GDF Suez, Genel Energy, Husky Energy Inc, NCOC, Nexen Petroleum, OMV, Petrofac, Qatar Petroleum, Raytheon, Repsol, Rosneft, Shell International BV, Sonangol E&P, National Oilwell Varco, Statoil, Lockhed Martin, Tecpetrol, G4S and Subsea 7 amongst others. The 3rd edition of the Summit will be conducted under Chatham house rules and will once again include open floor discussions on recent security incidents from the Gulf.
For more information about the summit and any inquiries please contact IRN +44 (0) 207 111 1615, at info(at)irn-international(dot)com.