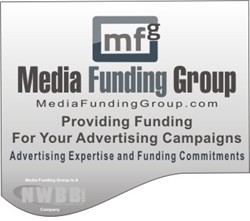 Washougal, WA (PRWEB) November 12, 2013
Media Funding Group, a NWBB Inc. company, headquartered in Washougal, WA, announced today that they have committed to supply New Choices Entertainment Incorporated with $500,000.00 in advertising campaign funding and trade credit based financing in exchange for common stock.
About New Choices Entertainment
New Choices Entertainment is developing and plans to market an electronic home entertainment component, including a related operating system, that will enable users to consolidate their entertainment content libraries, together with online content (whether broadcast or streamed) and shift seamlessly between a variety of home entertainment offerings for television viewing in high definition.
About Media Funding Group
Media Funding Group provides advertising expertise and private funding access for Advertising and Marketing campaigns in exchange for Equity based investments, Revenue Share participation or flexible payments on Revolving Credit Lines.
Media Funding Group CMO, Marc Hatch stated: "We are very pleased to participate with New Choices Entertainment Incorporated in marketing the revolutionary home entertainment system they are developing. The entertainment component they have created will change the way home entertainment viewing is accessed and utilized."
New Choices Entertainment President, William Richmond states: "Media Funding Group's in-kind investment in New Choices Entertainment provides us both with much needed capital and an efficient platform to disseminate New Choices's message to its target audience as it brings its disruptive technology to market."