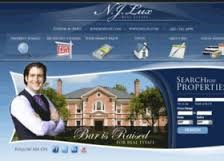 I have devoted my entire Real Estate career to providing the highest level of service possible. - Joshua Baris
Tenafly, NJ (PRWEB) November 12, 2013
Joshua Baris, one of the most accomplished and respected Realtors in the tri-state region, an award- winning market leader and real estate expert who ranks in the top 1 percent of licensed real estate agents in the entire State of New Jersey, recently left Coldwell Banker Residential Brokerage to accept a Regional sales and marketing position with Tenafly Regional Office of Prominent Properties Sotheby's International Realty, New Jersey's leader in luxury Real Estate.
Baris, a New Jersey native, has distinguished himself amongst his many local, national, and international clients for his highly skillful Real Estate representation. He is known best as one of the industry's most technologically advanced real estate agents. Baris has been instrumental in the mentoring of both company and industry colleagues with his vast knowledge of online marketing strategies and techniques. Baris consistently ranked among the most successful Coldwell Banker Associates worldwide.
Josh has also been turning heads with his clever use of technology and social media. Josh asserted, "Although I attribute a large portion of my success to the proper application of technology, I believe my true value is providing my clients with strong strategic thoughts and skills deeply rooted in the fundamentals of Real Estate."
This combination of both serving his clients as well as elevating his profession has led to Joshua enjoying a very lofty reputation within both consumer and professional, reaching a monumental 100 closed real estate transactions.
"While Joshua is widely noted for his stellar results in all price ranges...and his experience and results in both Residential and Commercial brokerage, he is most remarkable in how he consults, serves and represents upscale buyers and sellers," stated Charlie Oppler, co-founder of PPSIR and former President of the New Jersey Association of Realtors.
"Joshua is a perfect match for a position with our company... we enjoy the highest average sales price in all of New Jersey, and we are uniquely connected to the vital international, multicultural and corporate relocation markets."
Baris continuously breaks records within the New Jersey Real Estate market. Over the past year alone, he listed and sold the highest priced single-family home in the history of Cliffside Park, NJ as well as the highest priced and largest size single-family home in Edgewater, NJ. A few months ago, Baris' listing sold on Lake Iosco in Bloomingdale, NJ, also the highest priced residential sale in the history of Bloomingdale, NJ (as per the NJMLS and GSMLS).
Sophisticated Real Estate clients readily recognize and appreciate a Real Estate professional with Joshua's personal and professional pedigree". Oppler added.
In summarizing his move, one that commands the attention of the entire Northern New Jersey Real Estate Industry, Baris enthused, "Given that my name is now affiliated with the Sotheby's International Realty® Brand, I am able to provide a whole new level of service to my clients. What I love most about representing luxury home-sellers in Northern NJ, be they Gold Coast condo and co-op owners or our coveted home-sellers who reside in our leafy and venerated Manhattan commuting suburbs, is that these clients expect and demand the most from me."
"I have devoted my entire Real Estate career to providing the highest level of service possible. Just read my slogan, a derivative of my last name 'Bar is Raised for Real Estate!' This is not to say that I believe that I am inherently better than other industry professionals, but rather that I seek to challenge my entire profession to constantly strive to elevate how we serve our clients and customers."
Joshua Baris can be reached on his cell phone 201-741-4999 or via email at Josh(at)NJLux(dot)com or simply by visiting his website http://www.NJLux.com. He welcomes any opportunity to serve consumers either before, during or after their Real Estate wants or needs.