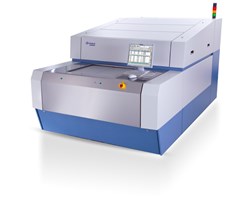 We look forward to continuing to provide our customers with an excellent value proposition in key areas of the production process. - Hadar Himmelman, President of Orbotech West
Munich, Germany (PRWEB) November 12, 2013
Orbotech, S.A., the European subsidiary of Orbotech Ltd., a leading global provider of yield-enhancing and production solutions for printed circuit boards (PCBs) and IC substrates, is presenting the Company's latest solutions for creating a new PCB world in Booth #B1.221 at Productronica.
"As part of our commitment to being the vendor of choice for western PCB manufacturers, we are pleased to be demonstrating a full range of advanced digital solutions at Productronica which have been designed to provide critical advantages for meeting the industry's increasing quality, cost and time-to-market challenges," said Mr. Hadar Himmelman, President of Orbotech West. "With cost-effective models available for all production levels and applications, including our Paragon LDI systems, we look forward to continuing to provide our customers with an excellent value proposition in key areas of the production process."
Being presented for the first time in Europe is Orbotech's new Paragon™-Xpress 50 laser direct imaging (LDI) system for mass production digital imaging of fine line HDI, flex and rigid-flex applications down to 15um line/space. As the industry's leading LDI solution, over 850 Paragon series systems have been installed worldwide.
Also demonstrated is the Ultra Fusion™ 300 automated optical inspection (AOI) system for production of advanced IC substrates down to 10μm. Additionally featured is the Sprint™ 120 inkjet printer with DotStream Technology™ which delivers high speed and top quality for consistent, volume production of advanced legend designs. Sprint systems now include new capabilities for printing on flexible PCBs with Taiyo flex ink. The PerFix™ 200 automated optical rework (AOR) system achieves fast, perfect rework of shorts and excess copper on the most advanced PCBs, including flex, HDI and complex high layer count applications. InSight PCB® pre-CAM software and other CAM/Engineering developments by Frontline PCB Solutions will also be on display.
About Orbotech Ltd.
Orbotech Ltd. (NASDAQ/GSM: ORBK) has been at the cutting edge of the electronics industry supply chain, as an innovator of enabling technologies used in the manufacture of the world's most sophisticated consumer and industrial products, for over 30 years. The Company is a leading provider of yield-enhancing and production solutions, primarily for manufacturers of printed circuit boards, flat panel displays and other electronic components. Today, virtually every electronic device is produced using Orbotech technology. The Company also applies its core expertise and resources in other advanced technology areas, including character recognition for check and forms processing and solar photovoltaic manufacturing. Headquartered in Israel and operating from multiple locations internationally, Orbotech's highly talented and inter-disciplinary professionals design, manufacture, sell and service the Company's end-to-end portfolio of solutions for the benefit of customers the world over. For more information, please see the Company's filings with the U.S. Securities and Exchange Commission (the "SEC") at http://www.sec.gov/ and visit the Company's corporate website at http://www.orbotech.com/. The corporate website is not incorporated herein by reference and is included as an inactive textual reference only.